Kiribati: Potentially the First Uninhabitable Island Nation
Kiribati, a central Pacific nation comprised of 33 atolls and reef islands will be one of the first countries in the world to become uninhabitable due to the forces of climate change. Shoreline erosion, drought, groundwater salinity, and tropical cyclones are threatening the livelihood, health, and housing of many Kiribatians which means that within the next few decades, the majority of the population will have to migrate. The local and international reactions to Kiribati's case will lay a framework for how the world embraces the ever-increasing number of 'climate refugees' globally.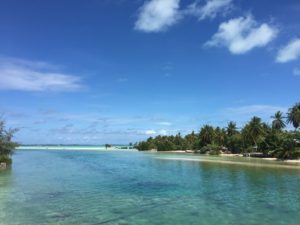 Despite the country's large territory, only 810 square kilometres of the land is currently inhabitable but this figure is shrinking due to the effects of climate change. Of the liveable land mass, most islands are less than three meters above sea level, making them very vulnerable to rising sea levels. Currently, the inhabitants of some of the smaller islands are being forced out due to climate-related threats and are migrating to the capital, South Tarawa. The population density in South Tarawa has mushroomed from 2,500 inhabitants per square kilometre in 2005 to now around 5,500 due to this influx of internal migrants coupled with high birth-rates. Now, the small island atoll's population density similar to that of Hong Kong, but with only single-level homes.
Kiribati's government has been taking proactive measures, to the best of its abilities, over the last decade to prepare the country for what lies ahead. The former president, Anote Tong purchased 23 square kilometres of land in Fiji for roughly $8 million USD in 2014. The goal of this measure for Tong is to ensure Kiribatians don't become refugees in the future. However, the purchase of the land does not entitle them to sovereignty over it, making the fate of the population contingent on how the Fijian administration decides to treat the purchase. Additionally, the land is comprised of steep forested hills and mangrove swamps, which aren't conducive to growing crops or housing. Furthermore, fishing – a staple in the Kiribatian diet – is reserved solely for Fijian nationals.
Tong also developed a program to prepare the people of Kiribati for migration, specifically to New Zealand and Australia, by offering them training as carpenters, electricians, auto mechanics, and nurses so they have access to opportunities in these countries in the future. For Tong, a solution that means the Kiribatians are able to "migrate with dignity" and bypass refugee status is integral, stating, "I must admit it may be out of a sense of pride. Basically, I don't want to go begging."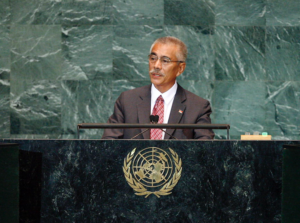 However, to be able to migrate over 100,000 people requires neighbouring countries, namely New Zealand and Australia, to open their borders. As it stands now, neither country is making significant strides to offer opportunities for migrants from Kiribati or other Pacific nations. New Zealand offers a Pacific Access Category Resident Visa to Kiribatians but despite thousands of applications a year, it only accepts 75 people annually, which barely makes a dent. This figure will be even less valuable if the whole population is forced to migrate in the coming decades. Meanwhile, Australia is erecting more barriers as the potential migration crisis intensifies. Peter Dutton, Australia's Home Affairs Minister announced that Australia refuses to sign the United Nations global compact for migration, the first international agreement that covers all aspects of international migration, arguing that it would threaten Australia's sovereignty. In the same vein, 'non-arrival' measures are being implemented in many countries. They vary anywhere from strict visa regimes to the offshore immigration processing centre Australia has set up on an island off its coast where asylum seekers are detained. Fundamentally, as our world becomes increasingly globalized, entrance controls are also strengthening in many countries as they push to establish dominion within their own borders.
So, whose responsibility is it to protect Kiribatians? They are being forced out of their home due to the detrimental effects of climate change which they have contributed relatively little to. According to a 2016 study, 20 of the 26 highest greenhouse gas-emitting countries are some of the least susceptible to the negative effects of climate change while 11 of the 17 countries with lower emissions are very vulnerable to these impacts. In the future, the emission-impact inequality is expected to become even more pronounced. This imbalance disincentivizes high emitters from mitigating against the impacts of climate change as they are don't suffer the effects. Tong framed this paradox well saying, "When countries in the region do things that are not proper, like have a coup, we expel them from the regional body … When you believe somebody is destroying your future and your home, what should you do?"
Antonio Guterres, during his time as the United Nation's High Commissioner for Refugees between 2005 and 2015, fought to bring migration due to climate-related catastrophes to the forefront. But, his efforts contradicted Tong's vision of independent migration to neighbouring countries, calling for the UN to take care of individuals displaced due to climate change. In a speech commemorating the 60th anniversary of the refugee convention, Guterres said, "These persons are not truly migrants, in the sense that they did not move voluntarily. As forcibly displaced [and] not covered by any regime—by the refugee protection regime in particular—they find themselves in a legal void."
This legal void is far from being filled. There is still debate over the definition of a 'climate refugee' and individuals forced to leave their country due to climate-related factors are not covered under the 1951 Refugee Convention, nor under any other international agreement. As more and more people are displaced due to environmental difficulties, with the rate currently exceeding one person per second, developing a set of international norms that account for climate migrants or 'climate refugees' is essential. The UN Internal Displacement Monitoring Centre (IDMC) and the Norwegian Refugee Council both marked natural disasters as the primary cause for internal and international displacement. It seems intuitive then to focus on the impacts of climate when thinking about future agreements.
However, the prospect of defining climate migrants as an international responsibility has not been well received thus far. The potential crisis is beyond any scope imaginable and there aren't any institutions that wholely cover the distinction of 'climate refugees' yet. The refugee convention outlines three options for 'durable solutions' for refugees – voluntary repatriation, resettlement, and local integration. However, 'climate refugees' cannot return to their homeland in the future, taking out voluntary repatriation as an option. Additionally, they are potentially so numerous that there's pushback to having them defined as refugees and an international responsibility. This challenges the norms of the current refugee convention, demonstrating the need to develop new institutions to protect climate migrants while also maintaining the current framework for other types of refugees.
Increasingly severe climate conditions throughout the world could potentially lead to a billion 'climate refugees' worldwide by 2100, according to research by Cornell University. This would require a drastic shift in global policy and approaches. In many ways, the decisions made by the international community on Kiribati will set the precedent for how other 'climate refugees' are treated in the future. Due to the importance of Kiribati's case for world migration policy, decisions will be made slowly but will also serve as a striking example of how lives are valued in the future. 
Edited by Zoë Wilkins