"Talking against the Roma is something that helps you politically in Slovakia"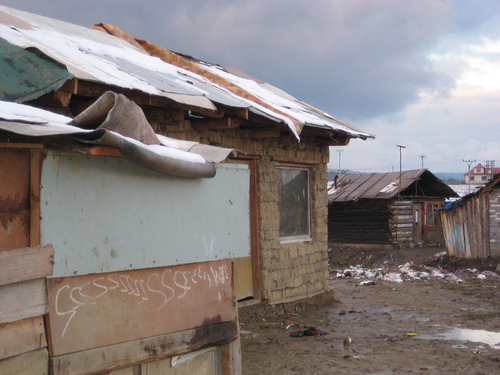 From the Economist, excellent reporting on an absolutely criminal action by the Slovak police against an innocent Roma community:
AFTER months of stonewalling by some of the country's top politicians, prosecutors have ordered another investigation of a violent June 2013 police raid on a Roma settlement in eastern Slovakia. Whether that investigation will be any more independent than the first is not certain.

Just after 7pm on June 19th, 2013, in an operation dubbed "Repressive-Search Action 100", 63 police officers, including masked riot police, approached the Roma settlement informally known as Budulovska. About two kilometres outside the town of Moldava nad Bodvou (pictured), a dirt road is the lone entry point to the 800-person settlement on a rough patch of scrubland shielded from the main street. Police claimed to seek seven men, who were either criminals-at-large or suspects in open cases. As they combed the settlement'sfavela-like shanties and dilapidated pre-fabricated concrete buildings, violence erupted. None of the men police were looking for was there, but they detained 15. Several Roma were injured. At least one claims he received two more serious beatings at the police station and another alleges he was bleeding from his rectum when he was released. Morning-after photographs lend credence to such claims.

Earlier this month, prosecutors concluded that there was reason to believe police may have committed crimes, a small victory for those concerned about the incident (a list includes theUN High Commissioner for Human Rights). In Slovakia though, judicial and prosecutorial independence is less than assured: the investigator charged with looking into the raid again is an employee of the interior ministry, the very body that has sought to brush the incident under the carpet.

In the immediate aftermath of the raid, the interior ministry (which oversees the police) looked into events and found no evidence of wrongdoing. The ministry's investigation did not involve interviewing any of the alleged victims and its conclusions mirrored the original version of events presented by police: Roma men aggressively attacked the baton, pepper spray and taser-wielding police. Among the most heroic anecdotes saw a police officer assaulted from behind with an axe narrowly avoid serious injury because he "warded off the attack with his hand".

In an interview last year Robert Kaliňák, the interior minister, expressed no regrets over the incident or the ministry's report. He has spent much of the past months sticking with that story and regularly chastising the Roma as "liars". On January 22nd, he published aprovocative opinion piece facetiously titled "I am a racist!" for Sme, a Slovak daily. It continues in much the same vein, but includes a catalogue of what are hefty crime statistics from the Roma settlement. His argument remains that such showings of force are necessary to prevent crime and that all the uproar over the incident amounts to little more than a political vendetta against him.

Mr Kaliňák is widely perceived as the country's second most powerful person behind Robert Fico, the prime minister. He looks poised to replace Mr Fico as prime minister should the current premier win presidential elections in March. Mr Kaliňák has flauntingly wielded this power to scuttle deeper examination of the police raid incident.

Jana Dubovcová, Slovakia's ombudswoman, found evidence of unlawful detention, illegal entries into homes, a lack of police documentation of the incident and no evidence Roma attacked police. She concluded police "violated fundamental rights" and that the ministry's investigation "did not fulfil the requirement of independence". A parliamentary committee dominated by Mr Kaliňák's (and Mr Fico's) Smer party made sure her report never went before the full parliament. Then, on January 8th, Ms Dubovcová was invited to a cabinet meeting, ostensibly to share her report. Instead, she was denied the chance to speak and lectured by Mr Fico on her proper constitutional role, Ms Dubovcová said.

At the same time, Ms Dubovcová has seen funding for her office cut, so much so that she has trouble paying employees and their rent.  Mr Kaliňák has almost mockingly offered her state-owned office space in an isolated eastern Slovakian town, something that would move her hours away from the capital of Bratislava—and from media attention.

"It shows they are nervous," said Martin Vavrinčík, a lawyer who works in the Budulovska settlement for an NGO, ETP Slovensko. As for Mr Kaliňák's insistence that high crime demands a heavy hand, Mr Vavrinčík responded: "Still, these people have rights."

Mr Vavrinčík remains sceptical much will come from this latest investigation and notes he and his colleagues are prepared to exhaust all the legal avenues at their disposal, including the European Court of Human Rights. Mr Vavrinčík has also co-authored a response to Mr Kaliňák's opinion piece, while noting what is perhaps the biggest impediment to a clear reckoning with what happened during the Moldava nad Bodvou raid: "Talking against the Roma is something that helps you politically in Slovakia."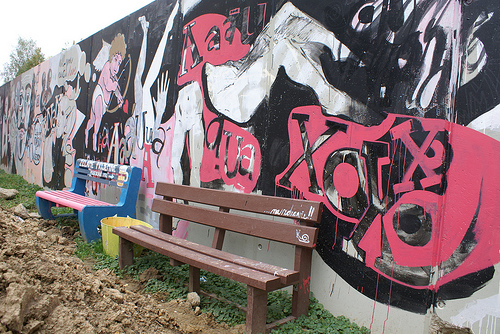 Combined with the widespread construction of ghettoizing walls around Roma communities, including in the country's second-biggest city of Košice, it looks like Slovakia is a strong contender for most Romaphobic country on the planet. Being shunted into marginal neighbourhoods or shantytowns on the outskirts of the city is already a great indignity. Now, when these communities are walled off and abused by police with impunity, it greatly furthers that indignity. What incentive do Roma have to participate in society or integrate if, regardless of what they do, a 7-foot high concrete wall, topped with barbed wire in places, is built at great public expense just to keep them out? What incentive do they have to respect "public order" if those charged with maintaining it make a mockery of the law with unprovoked beatings and racist slurs?
Fixing this means a lot more than taking down these walls, it means destroying the walls that exist in the mind of non-Roma between the Gypsy and humanity.