A Traumatic Reckoning: The Indigenous Relationship with Catholicism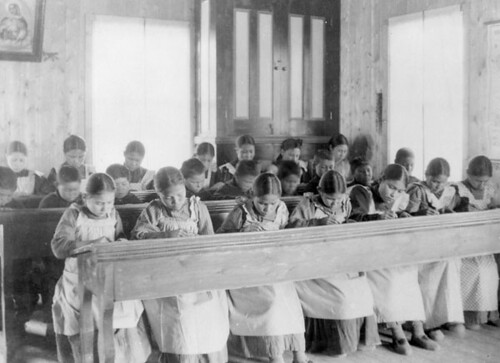 The recent discovery of unmarked graves belonging to Indigenous children has reopened the traumatic past of the Canadian residential school system. These deaths were not recorded and hidden to avoid religious backlash.  
The Canadian government sponsored the residential school system to remove Indigenous children from their homes and assimilate them into Euro-Canadian society through cultural genocide of their Indigenous heritage. The Union of Ontario Indians states more than 130 residential schools across Canada operated between the 1870s and the 1990s, accumulating more than 150,000 First Nations, Inuit, and Métis children between the ages of 4 and 16 years old attending these institutions.
As of May 24, 2022, the National Centre for Truth and Reconciliation's Memorial Register has 4,130 to 6,000 children died while at Indian Residential Schools. The main killer at these schools was disease, such as Tuberculosis and Pneumonia. Indigenous children were refused treatment and medical care, leading to an immeasurable number of deaths. The bodies were not sent back to the families, but buried in unmarked graves on school grounds. Bodies are now in the process of being discovered and identified on former residential school sites, using ground-penetrating radar technology to exact remains of human graves.  
In British Columbia, Williams Lake First Nation says it has discovered 93 potential burial sites on the grounds of St. Joseph's Mission Residential School between 1886 and 1981. In June 2022, the Lower Kootenay Band released a statement saying the remains of 182 children had been discovered in unmarked graves close to the former St. Eugene's Mission School near Cranbrook, B.C. In June 2022, the Cowessess First Nation in Saskatchewan announced it had found an estimated 751 unmarked graves on the grounds of the former Marieval Indian Residential School.
Religious Institutions and Residential Schools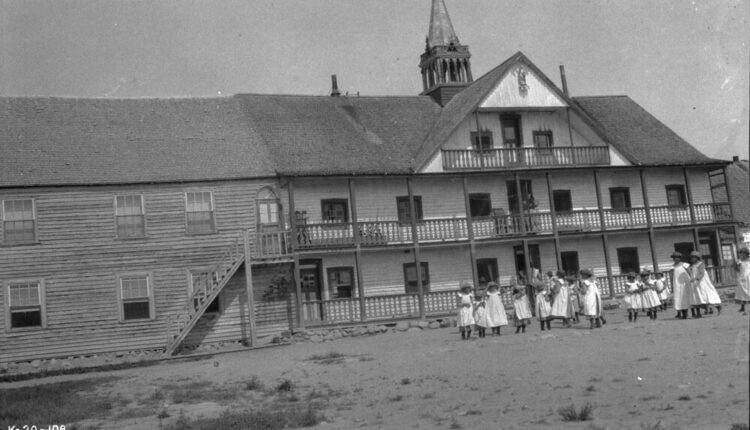 Religious institutions ran residential schools. The two largest religious organizations behind the residential schools were the Roman Catholic Oblates Order of Mary Immaculate and the Church Missionary Society of the Anglican Church. The Catholic church operated about 70 per cent of Canadian residential schools before government control in 1969. Their education scheme was to "kill the Indian in the child" of the residential school students. 
Indigenous Corporate Training stated, In 1996, the last school to close was the Aklavik Catholic Indian Residential School after seventy-one years of operation. Other schools run by the Anglican, Presbyterian, and United Church have since apologized.
Prompted by the grave discoveries, Pope Francis, the current head of the Catholic Church, issued an apology addressing the Catholic Church's role in residential schools. He expressed deep sorrow for residential school survivors and their families "for the wrong done by so many Christians to the Indigenous peoples." Religious officials and institutions may offer their apologies. However, other religious affiliates continue to deny the reality of residential schools. 
Little Flower Academy is a Canadian all-girls Catholic secondary school located in Vancouver. The vision of the school, inscribed on the Little Flower Academy website, notes they are "inspired by the Sisters of St. Ann," the order of sisters who founded and ran the school from 1927 to 1994. Members of the Sisters of St. Ann order staffed four residential schools in British Columbia, including the former Kamloops Indian Residential School, where more than 200 potential unmarked graves have been detected using ground-penetrating radar. 
The Tyee, an independent online B.C. news magazine, recounted that students of the Little Flower Academy spoke of mandatory field trips to a former school run by the sisters that may have been a residential school, as well as visits to the remaining sisters in their Victoria nursing home, where students were encouraged to ask the former residential school teachers for advice on living a pious woman's life. Little Flower Academy obscures its background concerning the Sisters of St. Ann and their involvement with residential schools. Religious and educational institutions shrouding involvement with residential schools further corrupt Indigenous relationships; the past is not over. 
The Role of Religion in Indigenous Trauma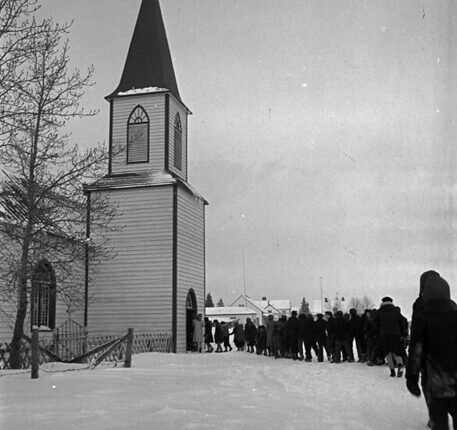 A century later, the church's role in residential schools marred Indigenous relationships with religion. Today, two-thirds of Aboriginal Canadians identify as Christians. Residential schools succeeded in suppressing Indigenous culture and developing and imposing Christianity as a cultural element to be continued in future generations. As a result, Indigenous values appear unwelcome, and Indigenous-Christians are shamed for identifying with a colonial religion. Broadview Magazine states the number of Indigenous people in Canada who identify as Christian fell from 63 per cent in 2011 to 47 per cent in 2021. Due to religion, current Indigenous generations are experiencing an identity crisis. The traumatic wounds residential schools brought upon the Indigenous population in Canada have converted religion and religious institutions into a symbol of cultural destruction and abuse. 
Similar circumstances appear internationally, including in India. Adivasis are Indigenous natives in India. The government functionaries in India assume that the default religion of indigenous people is Hinduism. There are also reports of the Ramakrishna Mission working in the northeast as well as in Odisha, trying to convert Adivasis to Hinduism, upending clan identities and cultural dynamics. 
Solutions
The Final Report of the Truth and Reconciliation Commission (TRC) reminds us that "reconciliation is not possible without knowing the truth." For reparation, educational institutions with previous ties to residential schools must be transparent and open to discussing its history with their students. Churches need to work in close collaboration with residential school survivors to aid victims and promote Indigenous culture and traditions along with financial support.
In September 2021, the Catholic Bishops of Canada apologized for the "grave abuses" committed by the church at residential schools. They vowed to raise $30 million over five years to support healing and reconciliation for survivors and their communities. Multiple organizations were founded to aid residential school survivors, including the Indian Residential Schools Survivors Society, Legacy of Hope Foundation, and Orange Shirt Society. For the future of Indigenous relationships with religious institutions and to heal intergenerational trauma, forgiveness for residential schools begets more than an apology. 
Religious institutions play a critical role in shaping the nation's identity and can aid Canada in correcting its historical wrongdoings with the Indigenous communities. In addition to donating money and assisting survivors, religious institutions need to dedicate themselves to combating anti-Indigenous racism. The Indigenous community continues to be persecuted, including the epidemic of missing and murdered Indigenous women in Canada and the United States. Indigenous women make up 16 per cent of all female homicide victims in Canada. Churches must actively condemn discrimination foster social justice in their communities, and implore their neighborhoods to aid in the searches and assist the victims. Forgiveness comes when the horrors of the past no longer have the possibility of being repeated in the present.   
Edited by Anya Narang.
Feature Image: "Indian Residential School Study Time" by Bibliothèque et Archives Canada. Licensed by  CC BY 2.0 .