"Appalling" Lack of Initiative in the Harper Government to Act Against Gender-Based Violence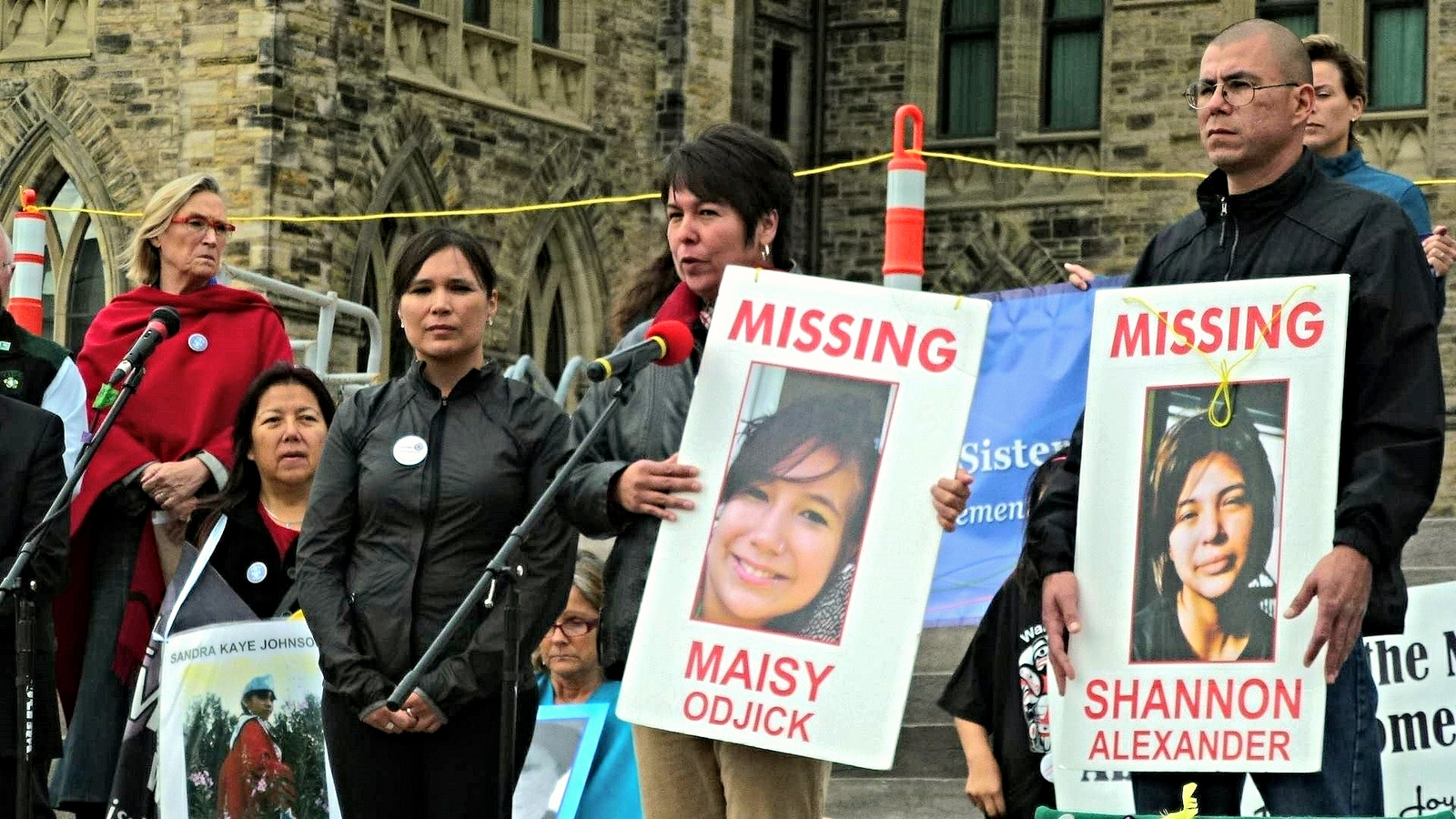 Ottawa Vigil For Missing and Murdered Aboriginal Women in Canada (Photo courtesy of Obert Madondo from Flickr Creative Commons)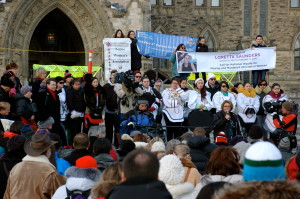 There is much more than resounding disappointment that should be aroused due to Canada's inadequate action to combat the issue of gender-based violence. According to a report released last February by Status of Women Canada, gender-based violence and harassment, particularly against women and girls, continues to be a "pervasive"[1] issue. It reported that, while male on male violence improved over time, violence against women has not decreased. It was further noted that certain groups of women are faced with "additional challenges,"[2] due to belonging to a marginalized population in Canada. This includes women in the North and rural areas, who are "far more likely"[3] to experience violence, as well as Muslim women who are much more likely than the average woman to experience hate crime. Due to the lack of media coverage surrounding such cases, violence against women and girls continues to go unnoticed by the general public, and thus remains a problem that goes unaddressed by the government.
Special attention must be given to Aboriginal women, who are far more likely to suffer from sexual and domestic violence, and have their cases largely ignored by the criminal justice system. Obscene amounts of women have gone missing or have been found murdered, and most of these women still wait for the Canadian government to take significant action regarding these crimes. The homicide rates of these women reach "far beyond"[4] the national average. Currently First Nations women make up 16% of Canada's female homicide victims, when Aboriginal females in Canada represented 4.3% of the overall female population in 2011[5]. As alarming as these statistics are, there is little that has been done by the government in order to effectively act against these incidences of violence and assault. In 2010, the Harper government promised a RCMP database for missing persons and unidentified remains; fast forward five years later and we are left with a project that is still incomplete[6]. Although a much lesser version of the database was created in 2014, Staff Sgt. Julie Gagnon said that the database, does not have much of the system's originally intended functionality and "has not yet resulted in any confirmed matches of missing persons to unidentified remains."[7] This long overdue project is only one amongst a plethora of other examples that show the government's failure to attend to this urgent issue. The lack of political will involved with the missing and murdered women shows that the Harper government is not taking this issue seriously, which the president of the Native Women's Association of Canada, Dawn Lavell-Harvard, has called "appalling"[8]. If it had not already been clear, the continual resistance of the Harper government to conduct a national inquiry into these cases is stark proof showing how lowly Parliament prioritizes the lives of Canada's Aboriginal women.
It is puzzling as to why the government is being ineffective in dealing with this matter, as well as Aboriginal issues in general. Perhaps a lack of funding could be the issue, but that is not the case seeing as the Aboriginal Affairs department in the Canadian government held back more than $1 billion on promised spending, which should have gone towards improving and adding new social services in Indigenous communities[9]. But one thing that is resoundingly clear is that, from the words of our Prime Minister Stephen Harper, "[this issue] really isn't high on our radar, to be honest."[10] In September, the Kootenay-Columbia MP David Wilks said that it is "not fair"[11] to expect the government to be responsible to look into these cases. Although the precise reasoning as to why the government refuses to budge on this issue is uncertain, they have certainly made clear that they do not feel responsible for the more than 1,200 lives that have been taken.
In comparison to other developed countries, Canada is falling behind on key indicators regarding gender equality. The United Nations Human Rights Committee's (UNHRC) latest report on Canada covered thirteen human rights issues, including gender equality and indigenous rights. This seven-paged report criticized the Canadian government for having no existing national strategy to address gender-based violence, while other countries such as the U.S., the U.K., Ireland, New Zealand and Australia already have one in place[12][13]. It also noted an "insufficiency of shelters, support services and other protective measures"[14] that could be accessed by survivors of gender-based violence. The report voiced its concern about the "continued high prevalence of domestic violence…against women and girls,"[15] emphasizing such violence against indigenous women, and making sure to condemn the lack of initiative the Canadian government has taken to address these cases of disappearance and murder. To address these shortcomings, the UNHRC urges the Canadian government to conduct a national inquiry regarding the missing and murdered indigenous women and girls, to firmly address the overall issue of violence against women, and to increase the number of support services available for survivors of gender-based violence to access throughout the country.
The UNHRC also recommends the government to "address the root causes of violence against indigenous women and girls."[16] This is particularly important to note because in order to properly take any action in the hopes of eradicating gender-based violence, one must learn of and acknowledge the roots of the problem. Although it is the government's responsibility to properly enforce policies to punish perpetrators of violence, as well as to supply survivors with the resources to receive any treatment necessary, gender-based violence will not decrease significantly unless we ultimately target the roots of why it still occurs in Canada. This includes continuing to encourage the government to implement laws to protect survivors of gender-based violence, educate the public on the truth of the injustice to Aboriginal communities in Canada, which will in turn eradicate societal stereotypes and stigmas faced by Indigenous peoples. Only then will any visible progress in diminishing the startlingly significant presence that gender-based violence takes in Canada.
[1] Women and Girls in Canada: Presentation to the Social Trends, Policies and Institutions. Rep. N.p.: n.p., 2015. Status of Women Canada, 10 Feb. 2015. Web. 4 Oct. 2015.
[2] ibid
[3] ibid
[4] ibid
[5] Royal Canadian Mounted Police. Missing and Murdered Aboriginal Women: A National Operational Overview. N.p.: RCMP, 2014. Web. 4 Oct. 2015.
[6] Beeby, Dean. "RCMP Database on Missing Persons Is Overdue, over Budget." CBC News. CBC, 31 Aug. 2015. Web. 4 Oct. 2015.
[7] ibid.
[8] ibid
[9] Beeby, Dean. "Aboriginal Affairs Spending Shortfall Amounts to $1B, Internal Document Says." CBCnews. CBC/Radio Canada, 05 June 2015. Web. 04 Oct. 2015.
[10] Kappo, Tanya. "Stephen Harper's Comments on Missing, Murdered Aboriginal Women Show 'lack of Respect' – Aboriginal – CBC." CBCnews. CBC/Radio Canada, 19 Dec. 2014. Web. 04 Oct. 2015.
[11] McSheffrey, Elizabeth. ""Not Fair" to Expect Government Action on Missing, Murdered Indigenous Women: Conservative MP." Vancouver Observer. Observer Media Group 2015, 4 Sept. 2015. Web. 04 Oct. 2015.
[12] Hyslop, Katie. "Canada's Lousy Record on Gender Equality No Surprise, Advocates Say | The Tyee." The Tyee. N.p., 25 Sept. 2015. Web. 04 Oct. 2015.
[13] Women and Girls in Canada: Presentation to the Social Trends, Policies and Institutions. Rep. N.p.: n.p., 2015. Status of Women Canada, 10 Feb. 2015. Web. 4 Oct. 2015.
[14] ibid
[15] Smith, Marie-Danielle. "UN Issues Scathing Report on Human Rights in Canada." Embassy. Hill Times Publishing, 23 July 2015. Web. 04 Oct. 2015.
[16] ibid