Calling it Like it is: Venezuela's Dictatorship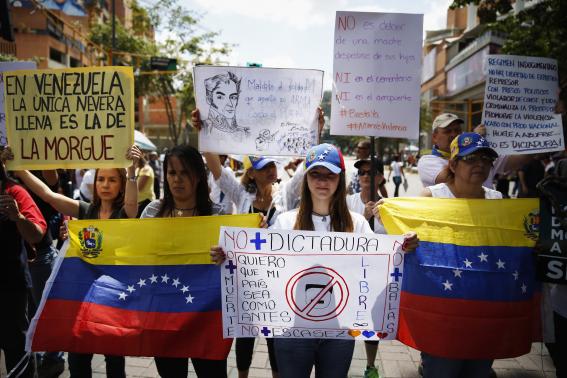 Anti-government protesters take part in a protest against Nicolas Maduro's government in Caracas March 3, 2014. Jailed Venezuelan opposition leader Leopoldo Lopez urged sympathizers on Monday to maintain street protests against President Nicolas Maduro as the country's foreign minister prepared to meet the United Nations Secretary General. The banner reads, "no to dictatorship". REUTERS/Carlos Garcia Rawlins (VENEZUELA - Tags: POLITICS CIVIL UNREST)
The world is finally paying attention to the long-term Venezuelan Crisis. For close to a decade, Venezuela has been mired in social, political and economic problems, which continue to deteriorate. The reverberations of protests in the streets can be heard more clearly now, indicating a majorly disgruntled civil society. The signs have been pointing to this outcome for years. Currently under the leadership of  the United Socialist Party of Venezuela, the country began a clear dive into crisis following President Nicolas Maduro's succession after Hugo Chavez. However, blatant human rights' abuses and the undermining of basic democratic processes, fuelled by unsatisfactory economic and political conditions, not only calls for investigations into state violations, but also warrants a deeper understanding of the country's maligned institutions.
Contextualizing Venezuela's socio-economic climate
Venezuela is home to the largest natural oil reserves in the world. This natural endowment has worked both in favour of and against the country. Oil profits have been a primary source of capital and funding for a long time, yielding two results: First, rent-seeking behaviour, and consequently, corruption, which has become fairly commonplace in Venezuelan politics. Second, economic stability is contingent on the stability of oil prices. Therefore, the last time oil prices collapsed, Venezuela followed suit. Moreover, national policy has played an integral role in Venezuela's economic deterioration.
The strict price controls placed on basic goods, as well as the Venezuelan leadership's consistent tampering with the market, make it difficult to produce anything profit worthy. Since as early as 2007, Venezuela has been experiencing severe shortages of basic goods. Milk, sugar, toilet paper, medicine, and now general groceries have become expensive, inaccessible, and in many cases, wholly out of stock. Aside from what is available on the black market, and the donations that actually make it to Venezuela, people are left to fend for themselves. As a result, the economy has not only stopped growing, but is characterised by several years of recession, hyperinflation, and a depreciating Bolivar. In fact, Venezuela's GDP growth has dropped from 18.3% in 2004 to -4.3 in 2017.
Homicide rates, kidnappings, and general crime rates have increased as the situation worsens, and the people are demanding change. Homicides have skyrocketed from 6,000 a year in Chavez's first year in office, to 24,000 when Maduro took over in 2013, to a new peak of 28,000 in 2015. Despite the near election of crowd favourite Enrique Capriles Radonski, and the opposition winning a majority in parliament, economic and political change has been virtually absent. As civilians protest, freedom of press and expression become more limited. Protesters are increasingly met with arrests, violence, and abductions, leading UN Rights Chief Zeid Ra'ad al-Hussein to call for an investigation into human rights abuses.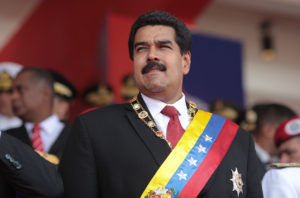 What points to human rights violations?
For most Venezuelans, a statement like Zeid Ra'ad al-Hussein's to the United Nations' Human Rights Council is long overdue from the international community, and an investigation is justified. Zeid cites several concerns that represent human rights abuses – "criminal proceedings against opposition leaders, arbitrary detentions, excessive use of force, and ill treatment of detainees." Until now, Zeid has only suggested that human rights violations may have taken place, but several cases present rather indisputable evidence.
Protests in Venezuela have recently been gaining momentum, wherein at least 125 people have been killed in confrontations with armed forces. These cases indicate that opposition is widespread, whilst the level of tolerance of political opposition coming from the administration is low. Furthermore, these numbers show evidence of repression and use of violence as a means of control by the State. Such statistics do not even account for the hundreds of injuries, ranging from light to critical, that contribute to civil unrest.
The government's response to the protests, however, is more accurately depicted in the mass incarcerations of protesters. Within the demographic of young adults and students, over 600 civilian students are tried before judges in military courts, while more than 1,000 are currently incarcerated due to their involvement in the protests. These "arbitrary detentions" constitute part of UN Rights Chief Zeid Ra'ad al-Hussein's complaint against the Venezuelan State of human rights abuses. Essentially, the constitutional right of every Venezuelan citizen is abused or taken away by the State conducting mass arrests, unwarranted trials, and several killings.
Finally, as recently as early August of 2017, opposition leader Leopoldo Lopez and the mayor of Caracas, Antonio Ledezma, were abducted from their homes. Videos show the two being taken by armed forces in the middle of the night, from the privacy of their own homes and against their will. In this case it is critical to note that the forces acted without court warrant, legal backing, or reasonable explanation. Their actions represent a gross infringement of the two men's right to dwell peacefully on their own property and a bold assertion of dominance from the Venezuelan authorities.
The country's leadership, which currently serves on the Human Rights Council alongside 46 other states, has simply rejected the accusations as "baseless." It has further backed this claim by explaining that the deaths are the result of the violence of anti-government movements, and that Venezuela's situation can be attributed to unwelcome "imperialist" interferences.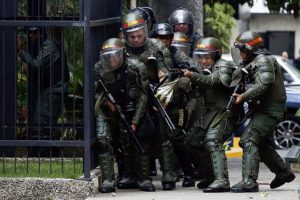 Democracy as Practiced vs. on Paper
Alongside Zeid Ra'ad al-Hussein's human rights investigation stands his concerns for Venezuelan democracy. He has claimed that it is "barely alive" – but if part of Venezuela's democracy lives on, it is undetectable and repressed. Not only have people lost their access to protected consultation, which serves as their link to the government, they have also seemingly lost their right to question the government. Political opposition is not only ignored and robbed of its voice; it is met with violence. Opposition leaders are being targeted, whilst protesters are being killed and incarcerated. Even the judicial branch has lost its independence and plays into the hands of the executive, causing further deterioration of the rule of law.
In March of 2017, two rulings claimed "legislative powers" for the supreme court, "depriving the National Assembly of its Constitutional powers and granting sweeping arbitrary powers to the executive." Parliament, which was previously held by the opposition, was stripped of power, suggesting a move towards a single-party state. Later, on Venezuelan Independence Day on July 5th, 2017, a paramilitary group trapped and attacked opposition leaders inside the National Assembly in an attempt to terrorize the opposition and their supporters. The assailants were not resisted by the building's security guards, indicating highly organized plans to keep political opposition and civilians at bay.
On July 30th, 2017, the Venezuelan government held a vote to form a new Constituent Assembly that would be granted power superseding any other Venezuelan body or legislature. The Assembly, tasked with rewriting the constitution and upholding the ruling party's political agenda, was brought to life despite accusations of a rigged election. Following the vote, Smartmatic, the firm that provided the voting system, alleged that the results collected by the company were not the results released by the government, and were in fact inflated. This has led many, including high-profile Venezuelan politician Enrique Capriles Radonski, to accuse the leadership of a coup. Again, this was rejected as "baseless".
A sign of a healthy, or at least a functional, democracy would be allowing protests and political opposition, maintaining the independence of the judiciary, respecting the legitimacy of legislative bodies, and holding free and fair elections. Unfortunately, Venezuela's leadership is failing on all of these accounts, and is further showing clear signs of human rights violations. Although Zeid Ra'ad al-Hussein's investigation is more than justified, he and the international community have been hesitant to call it as it is: a dictatorship.
This article has been edited by Arnavi Mehta.