Corruption in Vietnam: An Endemic Problem?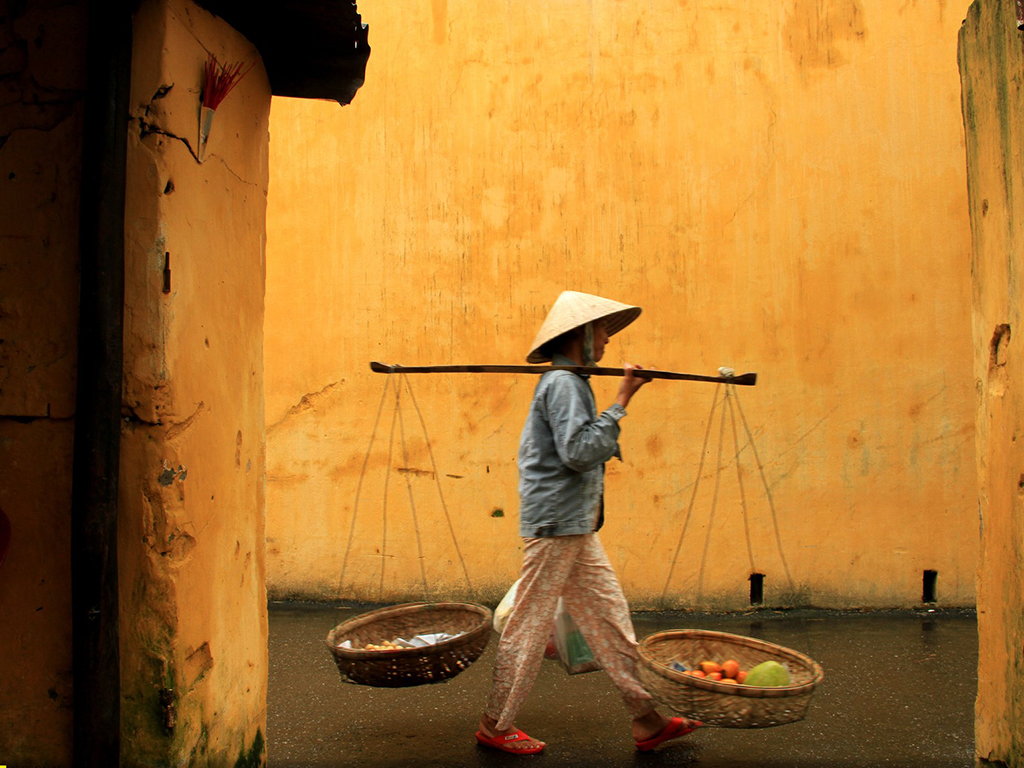 The photo seen here is a typical seller on the street of Vietnam. She sells fruits and vegetables. Such hawkers are common in the country. Photo by Shynil Hashim (http://travel.nationalgeographic.com/travel/traveler-magazine/photo-contest/2013/entries/203171/view/)
After the fall down of Saigon government, Vietnam faced "chaos, instability, and economic disintegration". In 1986, Vietnam's Communist Party decided to adopt a "market-oriented socialist economy under the state guidance"- known as Đổi Mới (Beresford, 2008).  The renovation has brought positive changes to the country's society, economy, and states. In the 1990s, as Beresford (2008) showed, Vietnam achieved a high GDP growth rate, rapid decline in poverty, more political openness and an upsurge of cultural diversity. Besides the opportunities the country gained from the reform period, it also faced many challenges. Those include high levels of corruption. In this article,  it is shown how corrosive corruption among governmental officials is in Vietnam, how it creates challenges for foreign firms to do business in the country and finally explains why corruption has still remained a widespread problem.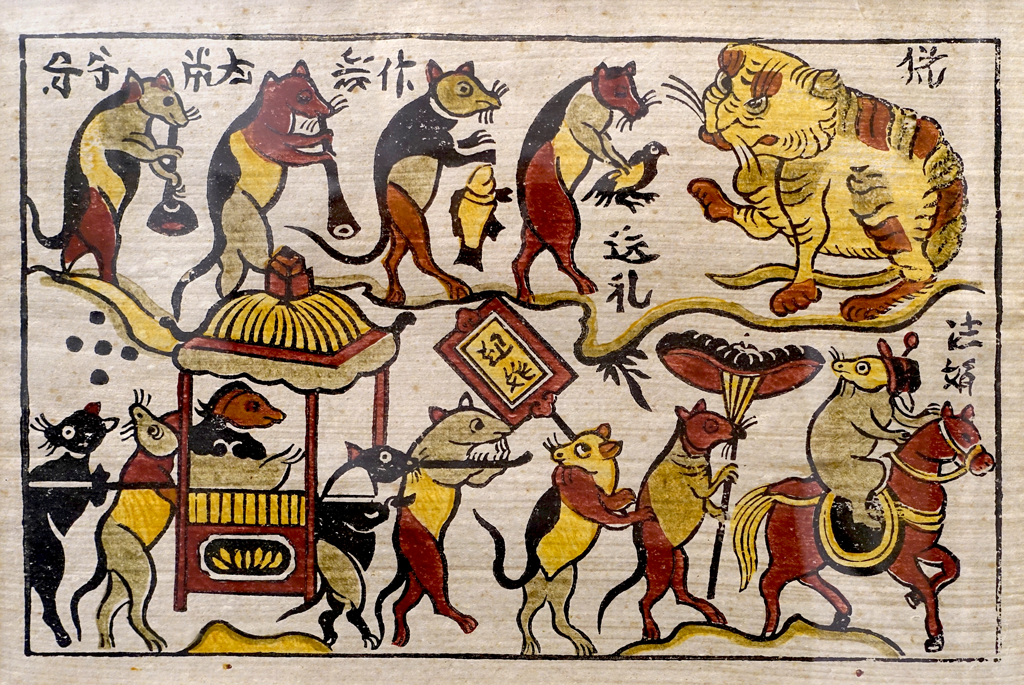 It is undeniable that corruption has long been a debatable problem in Vietnam and received a lot of public attention. Recently, this has occurred with the case of Mr. Trinh Xuan Thanh. Mr. Trinh Xuan Thanh, 51, is a well-known executive in Vietnam and the official of PetroVietnam (the state oil company). In May 2016 he had been elected to parliament, before fleeing Vietnam to Germany amid accusations of economic mismanagement. Having ended up in Germany, he applied for asylum in the country. Officials in Berlin scheduled his case on July 24th, but he did not show up. Mr. Thanh was forcibly returned to Vietnam a few weeks ago. The abduction of Mr. Thanh has increased tensions between Vietnam and Germany. Mr. Thanh is currently being detained to wait for his trial. The case of Mr. Thanh has attracted lots of attention both domestically and internally. And importantly, his case partly shed a light on Vietnam's political and social situation.
The case of Mr. Thanh is not the only high-profile corruption case that involved government and other officials in Vietnam. Just back in August, Vice Minister of Industry and Trade Ho Thi Kim Thoa was fired in August 2017 after accusations that she had committed wrongdoing in buying and selling shares of the company where she chaired the directorate (Bloomberg, 2017).  According to an article in "Thanh Nien", in 2013, there were 6 other high-profile corruption cases that involved government and high official members (Thanh Nien, 2013). One of most striking cases was of Duong Chi Dung and his brother Duong Tu Trong.  Both men held influential positions in the government system, however, they were caught in the scandal of pocketing over VND 16 billion (US$ 758000). These are just some examples of many illustrating the pervasive problem of corruption in Vietnam, which received many attentions from public.
Considering the current business environment, Vietnam's corruption problems could have detrimental effects on attracting international investments. Vietnam has implemented an open-door policy since Đổi Mới by actively engaging in the international economy. Therefore, the country is becoming more attractive accessible to foreign investments. With such trading and investing opportunities from foreign investment, however, corruption is common in the business environment. In a 2016 report, PCI found that 46% of foreign companies considered corruption in the country to be one of the biggest challenges. when doing business. The report goes on to claim that "Vietnam appears to rank even worse than every possible competitor when it comes to corruption and the regulatory burden. These weaknesses are broadly consistent with Vietnam's performance on other international rankings" (Malesky, 2016).
As a fact, corruption in Vietnam does not solely occur among powerful individuals and influential governmental members. The problem is widespread within the ranks of police and a myriad of other sectors, from public services to natural resources and legislation as well.  In a 2017 report conducted by US Department of State on Investment Climate Statements, one third of the companies surveyed indicated that police expect gifts during their meetings. Moreover, in a study by Rand and Tarp (2012), about 79% of companies are expected to give "gifts" for tax officials in meetings and 40% believes it is secure and indispensable bribes to those making government contracts (Rand and Tarp 2012, 571-595).
Although corruption seems to be declining in foreign firms, the problem does occur with bribes paid during entry or during government procedural process. According to PCI 2016 report, Table 1 (shown below) shows the percentage of firms that responded affirmatively to the list of the following questions about bribes paid during the government procedural process (Malesky, 2016):
1) whether firms paid bribes during customs procedures (at any stage in the process), or 

2) whether the businesses believe administrative and market regulations are an excuse for bureaucrats to extract bribes;

3) whether firms with contractual disputes did not use courts because they feared bribery.
As can be seen from the table, the amount of informal payment varies. In general, paying bribes has declined since 2010, but is quite unpredictable. Apparently, 58.8% and 66.2% of firms answered that bribes paid during customs procedure and bribes paid as an excuse of regulations were the most common, respectively. And less than half of firms admitted that they were charged an informal income of less than 1% of their annual income in 2016. Only 2% of firms had to pay an informal payment of over 10% their annual income.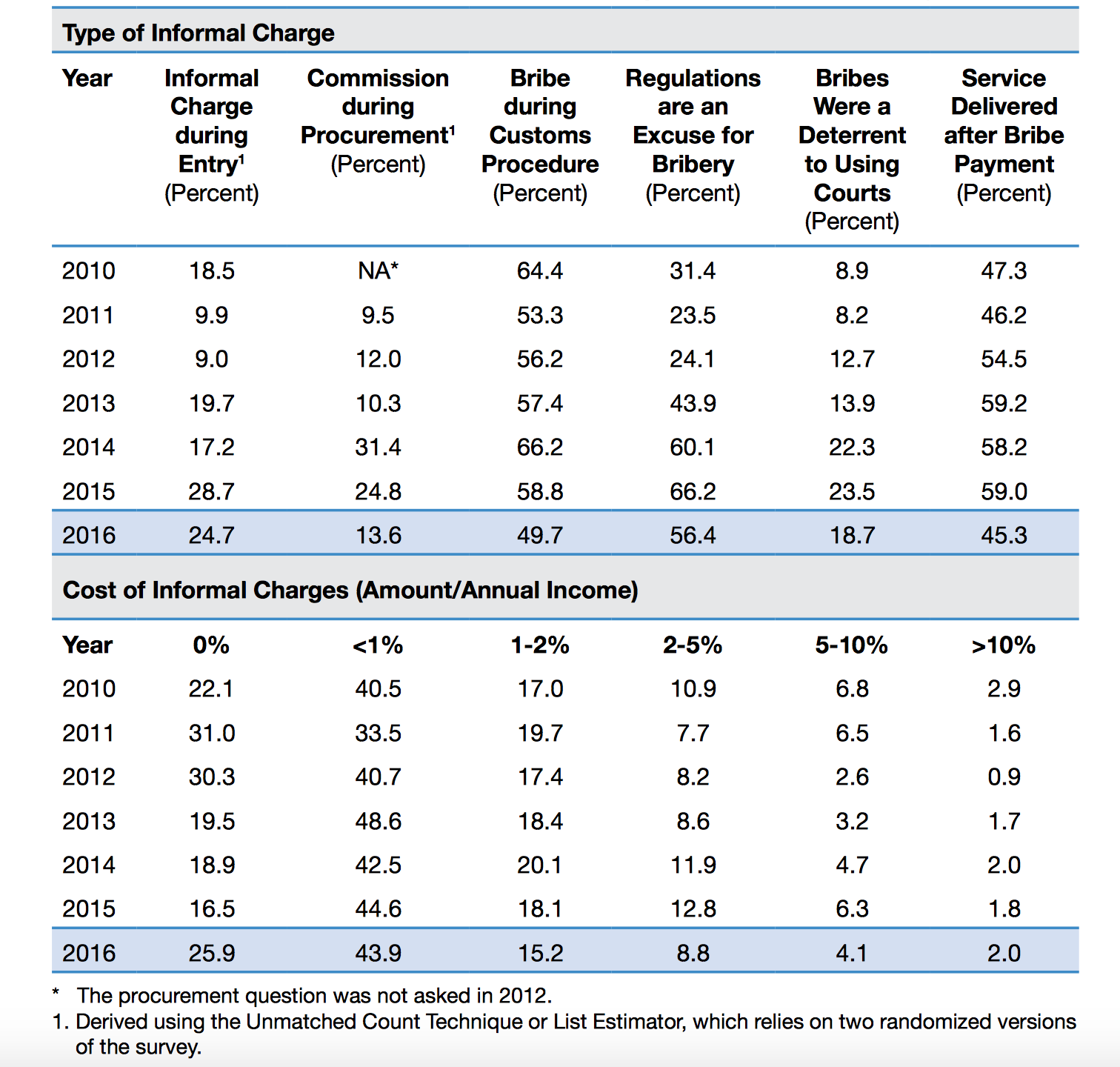 The report also asked the firms how often and who initiated bribes during inspection. Based on the following figure, although only 45.4% of firms admitted to offer gift or informal payment to the examiner, it can be seen that 59.5% of firms expected to offer bribes to inspectors without being asked. This shows the tradition of corruption in Vietnam.
"Reducing and being against corruption are equivalent to increasing inequality as well as reducing higher economic growth" (Brady, 2013).
Despite the fact that the established tradition of corruption in Vietnam is not new, the road towards fighting corruption in the country is not an easy task. According to Nick Davies (2015), corruption stems from the well-established tradition of public officials in Vietnam selling their influence and favouring their families. The writer also showed that Vietnam's system is characterized by high levels of government intervention, along with controlled international investment and a financial system managed by bank states.  As a result, reducing and being against corruption are equivalent to increasing inequality as well as reducing higher economic growth (Brady, 2013).
Since 2005, the new law tilted "Anti-corruption" to fight corruption was passed. The law, which is pursuant to some Articles 103 and 106 of the 1992 Constitution of Vietnam, Article 91 of the Law on Organisation of the National Assembly, and Article 50 of the Law on promulgation of Legal Documents, provides for corruption prevention and combat. Despite this progress, corruption in the business environment remains and is widespread (Rand and Tarp 2012, 571-595). Given the influence of politics, a lack of transparency and a weak legal system, consequently, the current problem has not yet been fully solved.
The recent case of Mr. Thanh has attracted plenty of public attention, both in and out of Vietnam. Given the introduction of an "Anti-corruption" law, this case shows that corruption is still a pervasive problem in the country, having negative effects on its economy as well as attracting foreign business investments. However, the way Vietnam handled this problem shed light on the fact that the country has begun to take corruption a way more seriously. Only once Vietnam's long-established tradition of bribery has been solved, will the country be able to provide social justice for its citizens and create trusting bonds between the government and the people.
Thinh Ho is a U2 student at McGill University. He reads Psychology and Modern Languages at the university. The article reflects the writer's opinions on the current problem. The writer has no responsibility for the persistence or accuracy of the URLs for external or third-party internet websites included in this article.
Edited by Thea Koper and Frankie Wallace
—————————-
Reference:
Beresford, Melanie. "Doi Moi in Review: The Challenges of Building Market Socialism in Vietnam." Journal of Contemporary Asia 38, no. 2 (2008): 221-243. doi:10.1080/00472330701822314.
Bloomberg. (2017). Vietnam Fires Vice Trade Minister Amid Graft Crackdown. Bloomberg. Available at: https://www.bloomberg.com/news/articles/2017-08-16/vietnam-fires-vice-trade-minister-amid-graft-crackdown (Accessed on 22 Oct. 2017)
Davies, Nick. (2015). 'Vietnam 40 Years On: How A Communist Victory Gave Way To Capitalist Corruption'. The Guardian. http://www.theguardian.com/news/2015/apr/22/vietnam-40-years-on-how-communist-victory-gave-way-to-capitalist-corruption (Accessed on 22 Oct. 2017)

Malesky, Edmund. 2017. The Viet Nam Provincial Competitiveness Index: Measuring Economic Governance for Private Sector Development, 2016 Final Report. Viet Nam Chamber of Commerce and Industry and United States Agency for International Development. Ha Noi, Viet Nam.

Rand, John, and Finn Tarp. 2012. 'Firm-Level Corruption In Vietnam'. Economic Development And Cultural Change 60 (3): 571-595. doi:10.1086/664022
Thanh Nien News. (2013). 6 High-profile Corruption Cases Set to Go to Trial in Vietnam. Thanh Nien. Available at: http://www.thanhniennews.com/society/6-highprofile-corruption-cases-set-to-go-to-trial-in-vietnam-832.html (Accessed on 22 Oct. 2017)
US Department of State., (2017). Investment Climate Statement for 2017. Ha Noi: Economic Officer.