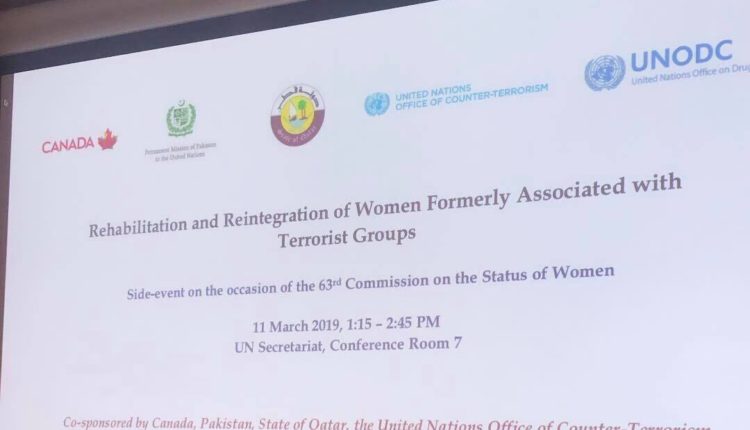 With the recent focus in global media on Shamima Begum, a 19 year old girl who left the United Kingdom in 2015 to join the Islamic State who has since attempted to re-enter the UK but saw her citizenship revoked; the side event on the Rehabilitation and Reintegration of Women Formerly Associated With Terrorist Groups at the 63rd Committee on the Status of Women (CSW) at the United Nations Head-Quarter in New York was highly relevant and informative for delegates and NGO representatives alike.
The side event was hosted by the Canadian, Pakistani, and Qatari Permanent Missions to the UN, as well as the United Nations Office of Counter Terrorism and the United Nations Office on Drugs and Crime. Prominent panelists included H.E. Mr. Yousuf Mohamed al Othman Fakhroo, Minister of Administrative Development, Labour and Social Affairs of the State of Qatar; H.E. Ms Aisha Abubakar, Honourable Minister of Women Affairs and Social Development of Nigeria; H.E. Ms. Hala Shakir Mustafa Saleem, Deputy Minister of Foreign Affairs of Iraq;  Mr. Vladimir Voronkov, Under-Secretary-General for Counter-Terrorism, Executive Director of the UN Office of Counter Terrorism; Ms. Michele Consinx, Assistant Secretary-General, Executive Director of the Counter-Terrorism; H.E., Dr. Maleeha Lodhi, Permanent Representative of Pakistan to the United Nations; and Ms. Simone Monasebian, Director, United Nations Office on Drugs and Crime, New York Office; as well as expert panelists from multiple foreign relations think tanks.
The formal objective of the event was to discuss effective, gendered perspectives on criminal justice responses to women formerly associated with terrorist groups, as well as the multifaceted ways in which women, are recruited into and involved with terrorist groups.
There was general agreement among the panellists that de-radicalization policies and prevention of recruitment into terrorist groups needed to include micro-financing and economic empowerment to establish economic and social stability for communities at risk to recruitment. These policies, however, are not necessarily gender-specific. The speaker from the Council on Foreign Relations, Ms Rebecca Turkington, attested that it is not always ostracized, vulnerable, and easily persuadable women who join terrorist groups; some join to gain more political liberty and agency than they experienced in their home state. Turkington named women in Columbia's FARC (Revolutionary Armed Forces of Colombia—People's Army) and the Irish Republican Army.
In an attempt to achieve the goal of rehabilitation and reintegration through an adequate criminal justice system, divisions occurred between panellists on how to frame women formerly associated with terrorist groups when and if they re-enter their home state. The Honourable Minister from Nigeria promoted the necessity to frame women as victims coerced into joining terrorist groups so as to prevent acts of gender-based violence and violence against women when they return to their home communities. In her experience with human trafficking and mass sex-slavery, the Minister of Iraq agreed with this framework.
Opposingly, the Under-Secretary-General for Counter-Terrorism emphasized the need for approaches tailored to the context of each case in criminal justice responses; arguing that some women may be victims but that does not mean disregarding the due process of evaluating whether women formerly associated with terrorist groups took part in acts of terrorism, recruitment, or other forms of facilitation and work for terrorist groups. The Assistant Secretary-General, Executive Director of the Counter-Terrorism sided more with the Under-Secretary-General in terms of the schism between women as victims and women as perpetrators. In sum, whilst panellists agreed upon a systematic, criminal justice-based approach to women formerly associated with terrorist groups, there appears to be an institutional versus national divide, with UN representatives calling for more evidence-based approaches to each case, and national representatives calling for community-based perspectives and rehabilitation.
Interestingly, none of the panellists touched on Shamima Begum, nor on the risk of the actions of the United Kingdom. In revoking her citizenship there may be an emergence of a trend of isolationism and abandonment of international criminal prosecution.