CSW 63: Meeting the Permanent Representatives of the Maldives to the United Nations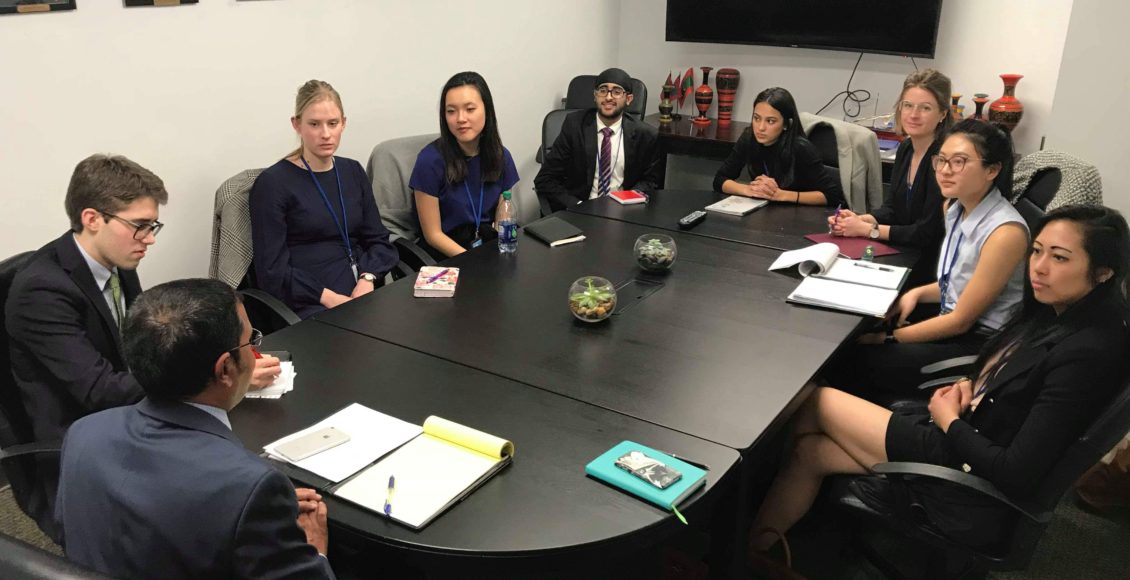 The IRSAM delegation meets with Permanent Representative of the Maldives to the United Nations H.E Ali Naseer Mohamed (pictured left)
On the sidelines of the CSW63, our delegation met with H.E Ali Naseer Mohamed, Permanent Representative of the Maldives to the United Nations, and Ms. Najwa Fathimath, Deputy Permanent Representative.  Canada and the Maldives established diplomatic relations in 1981.  Despite this, neither country hosts a physical diplomatic post on each other's territory; instead nearby representatives have dual accreditation. In this regard, Ambassador Mohamed serves concurrently as High Commissioner of the Maldives to Canada.
The Maldives is an archipelago comprising 1190 small coral islands.  It lies southwest of India and Sri Lanka.  After 77 years as a British protectorate, the Maldives gained full independence in 1965, taking control of its foreign and defence policy.  In 2008, the Maldives turned a new page with the restoration of competitive democracy.  The thirty-year dictatorship came to an end when Maumoon Abdul Gayoom relinquished the Presidency.
Our meeting began with an overview of the Maldives' foreign policy. The Ambassador explained that the Maldives is the smallest Asian country in terms of land area and population.  Consequently, it pursues a policy of non-alignment and is committed to fostering friendship with all countries.  This approach allows the government to enhance the security and national soverignity of the Maldives whilst strengthening national development programs.  Today, India plays an important role in helping the United States police the Indian Ocean Region.  As a result, the Maldives cooperates with India on shared security and strategic interests.
Our focus then shifted to women's empowerment.  Maldivian women have traditionally played a subordinate role to men. Within marriage gender expectations persist, meaning that women bear the heavy burden of household duties.  While this problem applies to many nations, especially in South Asia, the Maldives' approach to rectifying the situation is noteworthy. It understands that unconscious bias and instincts are one of the biggest obstacles in changing attitudes and behaviour.  By championing progressive legislation and establishing social protection programmes on a consistent basis, people will be "nudged" to embrace change and shift their thinking.  When people are shown the art of the possible, it is expected that new habits may form at the household level, slowly but steadily.
With regard to education, Maldives has achieved gender parity in primary and secondary school enrollment. The Ambassador noted that 70% of post-secondary enrolees are women. Ms. Fathimath spoke about her experience growing up on one of the country's smaller islands. She professed that her gender never stopped her from pursuing educational or early career opportunities.  However, she noted that women must overcome logistical barriers in leaving their home island. Ms. Fathimath also described how an increasing number of women are losing confidence as they reach mid-career. Owing to a lack of state-sponsored childcare, women face a starker choice between motherhood or their vocational aspirations. Recognizing this, President Ibrahim Mohamed Solih announced last week that women employed in the civil service will now be entitled to six months paid maternity leave while men will get one month paid paternity leave.
Thereafter, we conferred on judicial issues. Ambassador Mohamed informed us that legislation was passed in 2015 to criminalize domestic violence and martial rape. Regrettably, challenges relating to the difficulties of transportation and communications between the Maldives' 198 inhabited islands hinder the ability of the authorities to investigate alleged crimes and monitor policy interventions. It is now pursuing a more cost-effective solution: a digitized 'blind reporting' mechanism for rape and sexual assault victims.
Under the 2008 Constitution, the state religion of the Maldives is Islam.  Islam is the basis of all laws and no law contrary to any tenet of Islam may be enacted. I asked Ambassador Mohamed how the Maldives reconciles Sharia and human rights, in the context of "flogging."  He explained that there are no sentencing guidelines which judges must follow, and that flogging is still considered by some segments of the judiciary as a legitimate punishment for women charged with adultery.  However, according to the Ambassador, the Home Ministry no longer carries out sentences in which lashes are ordered; it treats women as victims and tries to rehabilitate them.
Additional topics discussed included climate change and environmental degradation, the reinstitution of a competitive political process, and the role of civil society