Expat Elector Weekly Roundup #2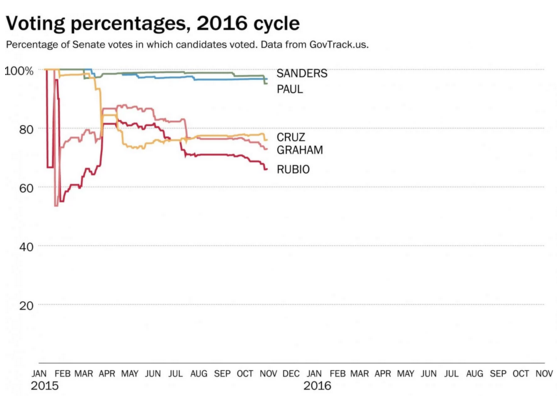 Comparison of Senate votes in which candidates (Sanders, Paul, Cruz, Graham, Rubio) voted. Credits to Washington Post and GovTrack.us (https://www.washingtonpost.com/news/the-fix/wp/2015/10/30/marco-rubio-is-right-that-others-have-missed-more-votes-but-theyve-also-come-under-fire/)
Here is the weekly roundup of the top five most important stories of the week in the US election as well as any upcoming local events here in Montreal or the surrounding area if you want to get involved with the election right here in Canada.
Democrats Abroad will hold a general meeting Tuesday, Nov 3rd in the SSMU cafe at 5:30pm.
McGill Students for Hillary Clinton will hold a general meeting Wednesday, November 11th in McClennan Library Room M3-37F at 7:00pm.
If you would like to advertise your campaign-related meetings or events in the Expat Elector Weekly Roundup, please email Phoebe Warren at phoebe.warren@mail.mcgill.ca.
With  372 days until the election,
Phoebe Warren