Expat Elector Weekly Roundup #4 Here is the weekly roundup of the top five most important stories of the week in the US election as well as any upcoming local events here in Montreal or the surrounding area if you want to get involved with the election right here in Canada.
1. Last night's Democratic Debate promised to delve into the difficult issues of domestic & foreign policy and did not disappoint. The candidates focused on a variety of subjects, ranging from national security in light of the attacks on Paris, how to handle the influx of refugees, Wall Street corruption, and bank reform. Check out this point to see some of my initial thoughts and responses to the debate.
2. Candidates from all sides of the political spectrum expressed their support to the city of Paris after the attacks on 13 November. The candidates quickly responded with their condolences, sending their prayers and support. Below are a few examples.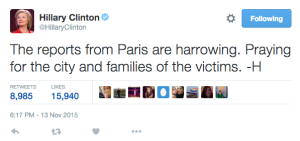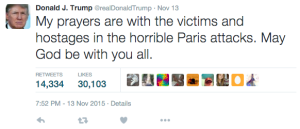 3. Donald Trump pounced on Ben Carson's integrity in an interview with CNN. In light of Ben Carson's past life experiences, Trump likened the former neurosurgeon's "pathological temper" to that of a child molester. This is clearly a strong statement and shows to me that Trump is becoming increasingly worried about Carson's rise in the polls.
4. The GOP debate on 10 November showed that Marco Rubio and Ted Cruz are forces to be reckoned with. In my post from earlier this week, it was discussed that Cruz and Rubio seem to be gaining steam with their views on immigration reform. Hillary Clinton was a main target of the greater debate discussions, and Jeb Bush failed to impress the public.
5. Jeb Bush seems to be in the midst of last-ditch efforts to save his campaign. With his performance in the most recent GOP being less than impressive, Bush has to step up in order to gain in the polls before his campaign becomes irrelevant. According to this Politico article, he is planning a large fundraiser for early December in Washington, D.C. as well as a donor summit in Miami, Florida. This could point to beginning of the end of his campaign, but if they go well he could be sticking around for a while longer. The Expat Elector will keep abreast of this issue.
With 358 days until the election,
Phoebe Warren