False Idol: Aung San Suu Kyi and the Rohingya Crisis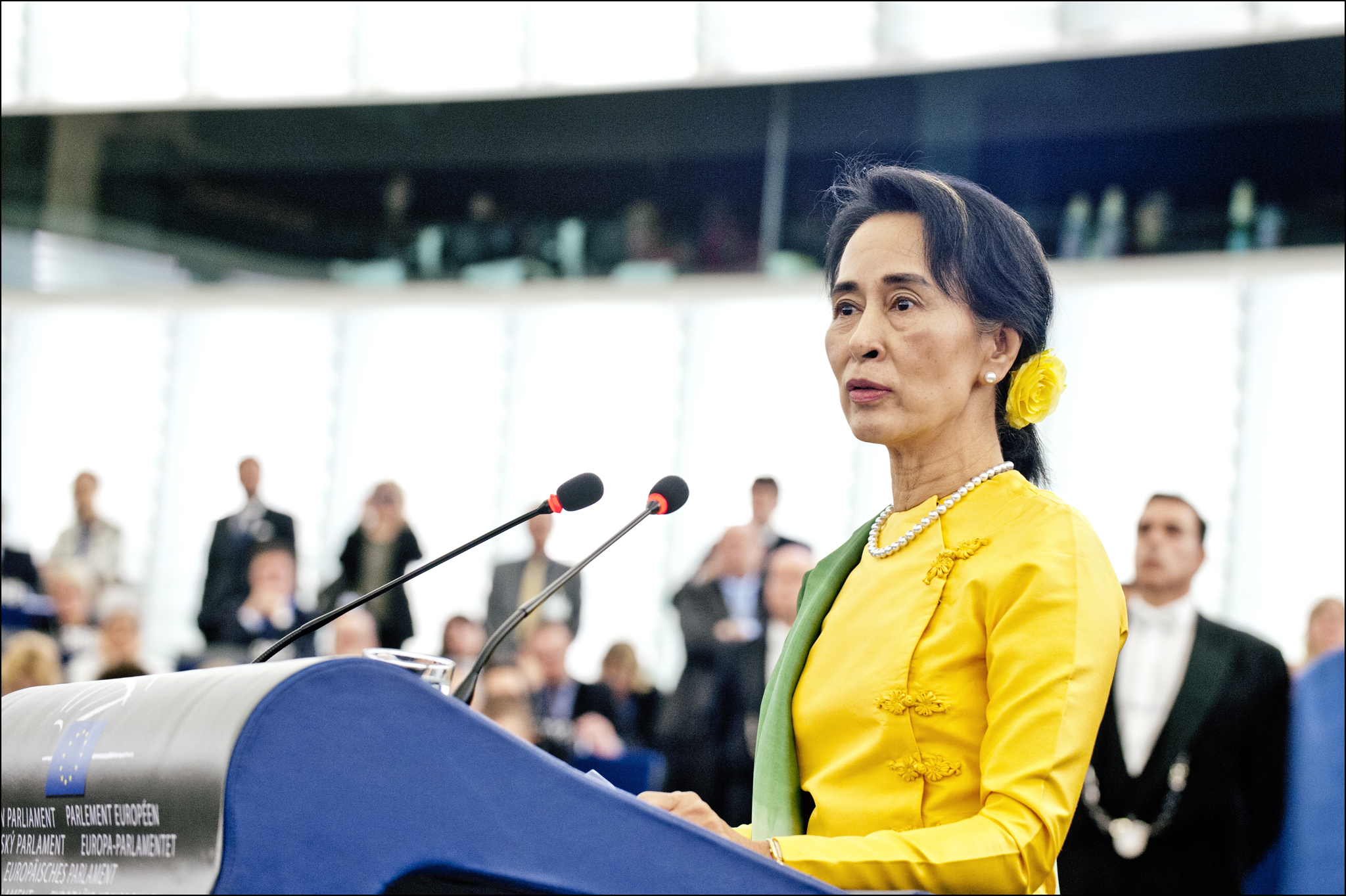 Aung San Suu Kyi addressing the European Parliament in 1990, and receives the Sakharov Prize. https://flic.kr/p/gSPubD
The events that have sparked the current crisis in Myanmar began on August 25th, when Rohingya militants, belonging to the Arakan Rohingya Salvation Army, attacked multiple police outposts in the Rakhine state. The attacks triggered a backlash of military brutality. The ensuing violence has caused a mass exodus of hundreds of thousands of Rohingya muslims. Nearly 400,000 Rohingya civilians have crossed over into neighbouring Bangladesh and are finding shelter wherever they can along the border. Some are fortunate enough to find space in the refugee camps set up by local aid organisations and the United Nations, while others have to sleep on the open ground. Refugees barely have access to resources such as food and water, and the nonexistent sanitation coupled with disease-carrying mosquitos means that those who are already vulnerable, particularly the malnourished and weakened mothers and children, are unlikely to survive.
The Rohingya and their Right to Full and Fair Citizenship
The Rohingya are a stateless minority, and have been stripped of their political and civil rights by the Myanmar government for years. Both the governments of Myanmar and Bangladesh deny the Rohingya any citizenship. Despite many Rohingya having called Myanmar home for the past several centuries, they have never been recognised as legitimate citizens, and have been subjected to years of marginalization and violence at the hands of military officials.
The Myanmar government claims to be fighting an insurgency against aggressive Rohingya terrorists. While there certainly is a group of allied Rohingya militants, the majority of those caught in the crossfire are innocent civilians. Most, if not all, of the escaped Rohingya describe horrific scenes of terror and bloodshed. They claim that government soldiers and Rakhine Buddhists are behind the "brutal campaign to drive them out." The Rohingya have experienced persecution for the past five years, but conditions have rapidly deteriorated in the past month. Villagers claim to have witnessed government soldiers rape, pillage, and torture their families and homes. Accounts also describe troops systematically burning down entire villages and killing innocent children.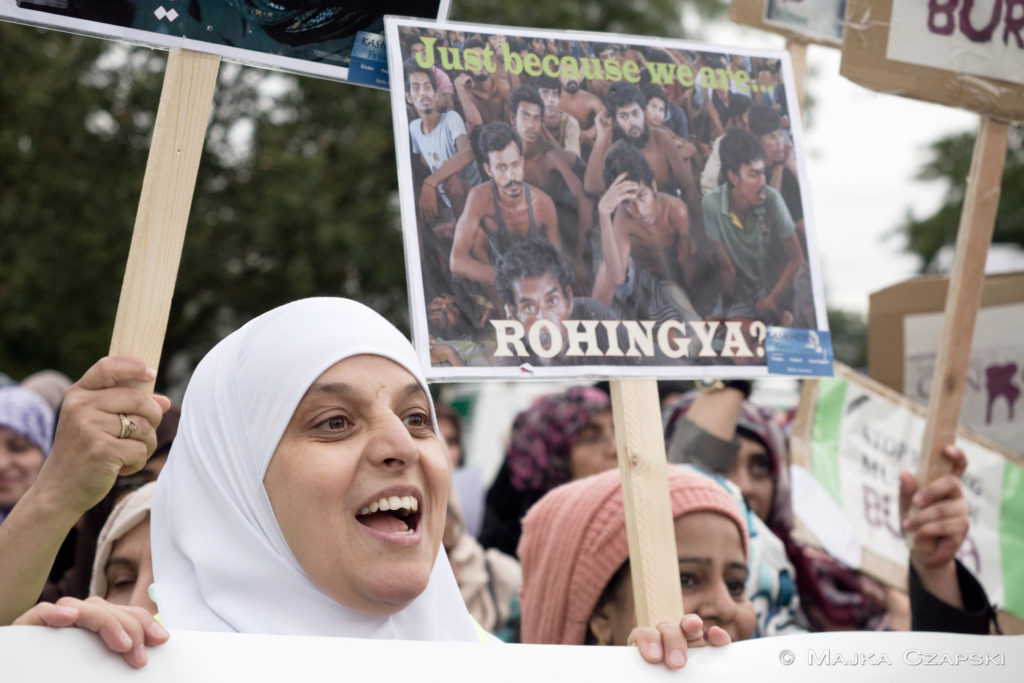 The international community has been quick to respond to the growing crisis. It should be noted, however, that most of the concerns have been pure rhetoric, and thus lack real influence. That being said, the United Nations human rights chief, Zeid Ra'ad al-Hussein, publicly spoke of the crisis as "a textbook example of ethnic cleansing." The High Commissioner called upon "the Government to end its current cruel military operation […] and to reverse the pattern of severe and widespread discrimination against the Rohingya population." Part of what makes this case more difficult to assess is the fact that the government prevents any human rights' investigators from accessing the conflict zone. Not only does this limit the information journalists and human rights' agencies can gather, but it is does suggest that Myanmar's government could be directly implicated in orchestrating the violence.
Aung San Suu Kyi's 'Binary' Dilemma
So, who exactly is responsible for this calamity? Virtually all international criticism has been targeted on the de facto leader of Myanmar herself: Nobel laureate Aung San Suu Kyi. Aung San Suu Kyi, while not the official President of Myanmar, is leader of the governing National League for Democracy (NLD) and holds the title of State Counsellor. Daw Suu Kyi, as she is commonly called by her followers, has long been hailed a saint. She is most known for her pro-democracy rhetoric and commitment to non-violence, as well as the unwavering stoicism she demonstrated throughout the fifteen years that she spent under house arrest.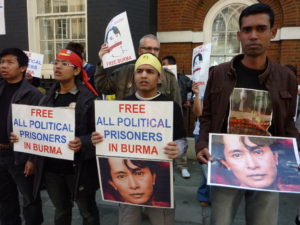 When questioned about the current crisis in her country, Aung San Suu Kyi replied, "I think ethnic cleansing is too strong an expression to use for what is happening." Aung San Suu Kyi defended her overall response to the situation, or lack thereof, by arguing that she has in fact spoken out about the ongoing crisis in Rakhine. It just so happens that her answers do not conform to "a kind of statement which they thought [she] should make, which is to condemn one community or the other." Perhaps Aung San Suu Kyi thinks that preaching a doctrine of non-violence is the key to preserving her legacy. That is all well and good, but there is more on the line than Aung San Suu Kyi's reputation. It serves no higher purpose to stand by in idle passivity when at least 313,000 innocent people have been forced to flee their homes due to extreme violence.
Yet it is easy to point fingers and cry foul. Perhaps Aung San Suu Kyi is simply restrained in some sense, restricted from acting as she pleases. It is likely that Aung San Suu Kyi faces a real threat if she speaks out against the military in support for the Rohingya. The Rohingya have never been embraced or incorporated into Myanmar's identity. Instead, they have suffered "years of xenophobic, anti-Rohingya propaganda, […] [which] endures in the nation's collective memory." If Aung San Suu Kyi were to speak out in favour of the Rohingya muslims, it would surely stain her golden reputation among Myanmar's Buddhist majority. 
Perhaps Aung San Suu Kyi is just a weak politician, "unable to outmanoeuvre the generals," and "taking the flak for the Army's unrelenting inhumanity in its fight against ethnic rebels." On the other hand, she may just be bound by Myanmar's inflexible constitution. Drafted by the very military that commits such acts of atrocious savagery against the Rohingya, the Constitution prevents Aung San Suu Kyi from becoming President, and "allows the Army to veto any attempt at constitutional reform." It also grants the military total control over the defence ministry, and prevents the civilian government from being involved in military matters in any way.
No conflict can ever be attributed to just one cause; as always, there are a myriad of forces at play. Ethnic tensions, religious factions, poverty, Myanmar's colonial history, and years of military rule are all contributing factors in the mess that is the Rakhine state. However, while it is easy to give in to cynicism and defeat, the facts remain – atrocities are being systematically committed to a minority group. There is no sense in calling oneself a leader if one cannot speak up for those who have no voice. Aung San Suu Kyi is the de facto ruler of Myanmar, and it is thus her responsibility to stand up for the democracy she claims to have been fighting for. As the Nobel laureate claimed of herself, "I am just a politician. I am not quite like Margaret Thatcher, no. But, on the other hand, I am no Mother Teresa, either." Perhaps there is more than meets the eye when it comes to the world's favourite Nobel laureate.
Regardless of such musings, Aung San Suu Kyi's indifference has spoken volumes, and as a result the Rohingya continue to suffer.