Hallmarks of Genocide: The Rohingya Crisis in Myanmar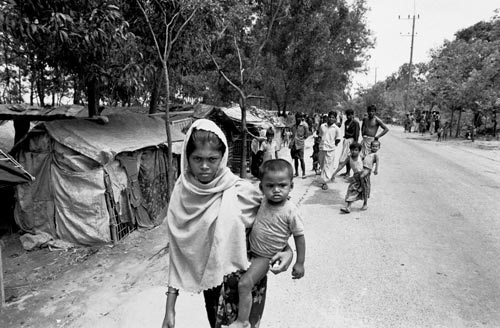 Rohingya girl in Teknaf, Bangladesh https://flic.kr/p/4WzEb5
In Majority-Buddhist Myanmar, the Rohingya Muslim minority, comprising of roughly one-million people, reside mainly in the Rakhine State on the country's west coast. Myanmar has a long history of the repression and persecution of the Rohingya, to whom it denies basic rights to citizenship, to marry, to worship, to travel and to education. Last month, President Obama lifted sanctions against Myanmar, citing "substantial progress in improving human rights" following the historic election victory of the Nobel laureate Aung San Suu Kyi's National League for Democracy party in 2015. This praise proves to be premature, despite hopes that Ms. Suu Kyi would bring an end to the brutal repression of the Rohingya people.
On October 9th, 2016, there was a military crackdown in the Rakhine state that began after an attack on a police station by armed assailants, (it is still unclear as to who they were). This attack may have been provoked by a recent government announcement that planned to destroy illegal structures in the Rakhine State (including thousands of homes, school and Mosques). Although Rohingya militancy has been described as "highly unusual" by CNN, despite unending persecution, Nazir Ahmed, an Imam in the Rakhine state, said the Myanmar forces drastically exaggerated the seriousness of the attack, most likely as an excuse for a full-on counter-offensive.  According to human rights groups, the Myanmar military has entered Rohingya villages, shot people at random, razed houses, and systematically raped girls and women. Satellite images published by Human Rights Watch indicate that at least 430 homes were burned in villages in northern Rakhine State between Oct. 22 and Nov. 10, which has continued to the present. Since October, some 34,000 people have fled over the border to Bangladesh amid allegations of murder and rape by military forces villages. Today, hundreds of thousands of Rohingya live in squalid refugee camps in Bangladesh.
Scholars of genocide have identified several likely indicators of mass killings. Several of those signs are now clearly evident in western Rakhine: the systematic dehumanization of the Rohingya, their isolation inside camps and ghettos, and "violent attacks on them involving the participation of security forces". A commission appointed by Ms. Suu Kyi, however, concluded last week that "there were no cases of genocide and religious persecution in the region". U Aung Win, the chairman of a Rakhine State investigation into the Oct. 9 attack, said soldiers would not rape Rohingya women because they "are very dirty".
The government of Myanmar has recently created a 20 kilometer-square "operation zone" barring independent journalists from the region and have often called reports of abuses as "fake news" and "fake rape."  This exclusion of independent journalists has created a "black hole in which security forces can attack villages [and] carry out arbitrary arrests" leaving the Rohingya, "…unable to leave their homes…or to reach medical care". In addition to this, most humanitarian assistance has been cut off to the area: Unicef has warned that thousands of malnourished children are in danger of starving and lack medical care. "The government is clearly trying to restrict the information coming out of northern Rakhine State and continue to issue denials about the very serious human rights violations taking place there," says Laura Haigh, Amnesty International's Myanmar researcher.
State-run media, on the other hand, has claimed international journalists and human rights groups are working "hand in glove" with terrorists. It has alluded to Rohingya as a "thorn" that "has to be removed," and as "detestable human fleas". Presidential spokesman, Zaw Htay, explained, "The international community misunderstood us because of Rohingya lobbyists who distributed fabricated news".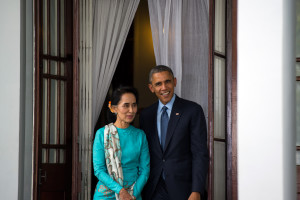 About a year ago, after a historic election, Aung San Suu Kyi, a longtime democracy champion and winner of the Nobel Peace Prize, became the de facto head of a new democratic government, inspiring hope that she would bring an end to the Rohingya's suffering. Yet, Ms. Suu Kyi has remained "remarkably indifferent", (perhaps due to her support of the Rohingya would risk huge public backlash from Myanmar's Buddhists) and her silence, therefore, amounts to "legitimising genocide" and entrenching "the persecution of the Rohingya minority". Ms. Suu Kyi's failure to speak out in support of the Rohingya "is baffling to an international audience that persists in casting her as a human rights icon", said David Mathieson of Human Rights Watch. More than a dozen fellow Nobel laureates have criticised Ms. Suu Kyi in an open letter warning of a tragedy "amounting to ethnic cleansing and crimes against humanity".
The dominant narrative suggests that Suu Kyi's "hands are tied" because she has little to no control over the military. While it is true the military controls the ministries of Defense, Home Affairs and Border Affairs, and that these are "instrumental ministries with respect to abuses in the Rakhine State"; Suu Kyi controls the ministries of Information, Foreign Affairs and others. She could therefore easily renew travel authorization for aid workers and independent journalists, which she has not done. Furthermore, no one in the country has more "moral authority"  to sway or change public opinion and counter hate speech than Suu Kyi, a 'power' she has not invoked.
Targeting an entire group, rather than individuals who have committed offences, "marks a key stage in the turn to mass violence". This "stage" is clearly the case in Myanmar. This is a particularly dangerous situation as this impending genocide is being masked by not only a praised democratic leader with a Nobel Peace Prize, but also a by complete lack of transparency, and therefore a lack of aid as well as accessible information. International vigilance is vital at this time as there are many factors that may make it easy to overlook the quick descent to an ethnic cleansing in the Rakhine State. In the open letter to Suu Kyi, it reads, "[Myanmar] has all the hallmarks of recent past tragedies – Rwanda, Darfur, Bosnia, Kosovo". The unfolding genocide in Myanmar will worsen if steps, (both domestically and internationally), are not taken toward a recognition of the genocide itself, especially by Suu Kyi herself.