Hey Pope Francis – Let's Talk about Abortion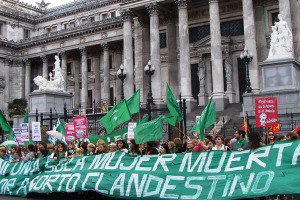 Thousands march for changes to abortion law in Argentina Credit: International Women's Health Coalition
Pope Francis' recent historic US visit took the country by storm, resulting in an irrepressible Pope-Mania. The visit not only made international headlines, but inspired supporters to flock to Washington D.C, New York City and Philadelphia to welcome the esteemed pontiff.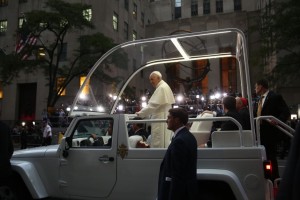 Until 2013, Pope Francis was known as Cardinal Jorge Mario Bergoglio of Buenos Aires. Although Latin America is home to 40% of the world's Catholics, he is the first Pope from the region. Pope Francis has been praised for his humble lifestyle, commitment to social justice and doctrinal conservatism.
Although Pope Francis has been perceived as an exemplary papal leader for social justice, his recent visit has resurged concerns to his extremely conservative views on sexual matters. His views have had an important influence on domestic issues back home in Argentina, particularly the issue of abortion, which is strictly limited by law, permitted only when the life or the health of the woman is in danger and in the case of rape.
Despite being low relative to the region, "Argentina's maternal mortality rate is substantially higher than that of neighbouring countries closest to its level of material development". According to official estimates from the Ministry of Public Health, between 460,000 and 600,000 clandestine abortions take place every year, with 80,000 women hospitalized annually because of post-abortion complications. This statistic does not even take into account the numerous abortions that go unreported each year. With unsafe abortions accounting for 30 percent of maternal mortality in Argentina, the South American nation did not come close in any way to accomplishing the fifth millennium development goal by 2015.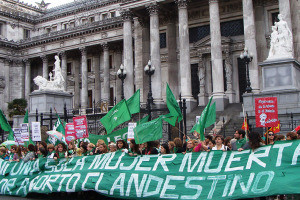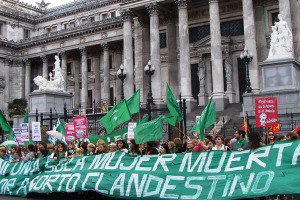 Taking into account Argentina's level of development, there are several important reasons for continued high levels of maternal mortality rates. There are many key elements to consider, but what is most important for this purpose is the complicated relationship between church and state that has directly affected abortion legislation. The Catholic Church in Argentina enjoys considerable influence on all facets of society, including policy-making.
With the papal conclave and election of the Argentine cardinal and Buenos Aires bishop Jorge Mario Bergoglio as Pope Francis in March 2013 and his recent international visits across the globe, the connection between church and state in Argentina continues to be scrutinized. Bergoglio's appointment as leader of the Roman Catholic Church has greatly influenced the abortion debate within the country. Before his designation, it was perceived that progress was being made in this matter, due to the revolutionary 2012 Argentine Supreme Court decision , the waning influence of the Catholic hierarchy and the concurrent increase in respect for human rights as implemented by President Cristina Fernández de Kirchner. This has been exemplified by her legalization of gay marriage in 2010 as well as the initiation of programs to implement access to free contraception.
However since Bergoglio became Pope Francis, Fernández has taken the opportunity to emphasize her historically oppositional views on abortion rights. Her change in attitude towards the abortion debate can be linked to three main influencing factors: legacy of previous discourse, her (new) close relationship with the pope, and her re-invested interest in a relationship between church and state.
Jorge Bergoglio was historically known for being outspoken against abortion and since elected as Pope, he has used his breadth and power in Argentina to try and influence the nature of the debate. He has often stated that "abortion is never a solution" or, "that it is perceived once more that the deliberate limitation and elimination of the supreme value of life and ignoring childrens rights to birth is advancement". Using his papal authority to silence the issue within Argentina, his influence even extended to Cristina Fernández, who has utilized their friendship as an opportunity to dismiss the abortion debate.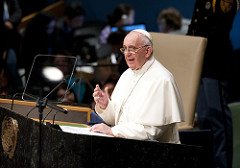 It is thus, with the Pope elected, that the Argentine state, as well as the Buenos Aires city government, has failed to guarantee women's sexual and reproductive rights. As long as Bergoglio-Francis maintains leadership of the Catholic Church, his power, popularity and political clout in Argentina will ensure that legalizing abortion remains near impossible. His influence may even transcend to other spheres of society such as traditional family structures or gender roles. This reality soberly suggests that despite past technical advances, Pope Francis' leadership in one of the biggest religious institutions in the world remains key to hindering the abortion debate, reminding us that absolutist influence is still very much alive not only in Argentina, but all over the world today.
With the recent visit of Pope Francis to the US and his presence at the UN General Assembly for the launch of the Sustainable Development Goals (SDGs), we should be asking ourselves what type of commitment he will concretely make to Goal #5: "Achieve gender equality and empower all women and girls" and how that has been exemplified by his actions both the past and currently at home and on the international stage.