Khmer and Boujee: Power, Nepotism and Cambodia's Upcoming Elections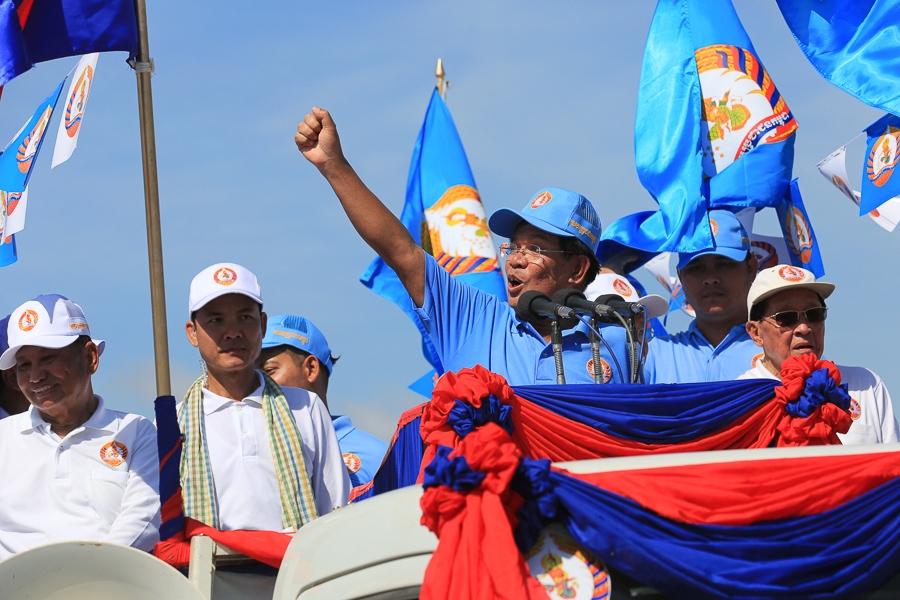 Hun Sen at a CPP rally http://www.khmertimeskh.com/files/news/39003/1496384490.jpg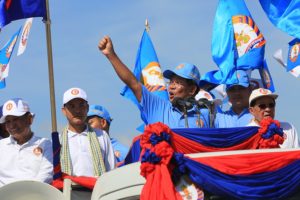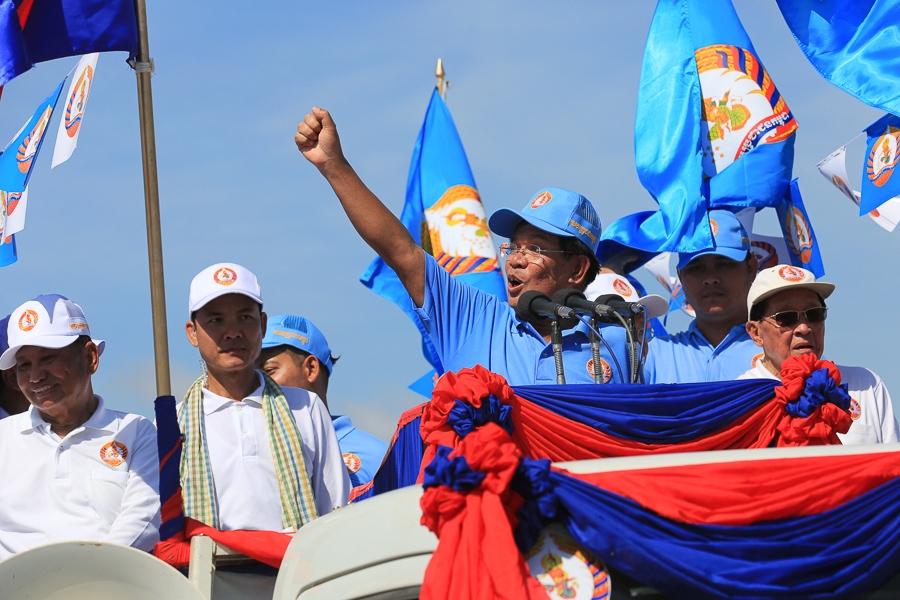 This Sunday, Cambodia is set to hit the ballot box for the nationwide commune council elections. Cambodians will vote for their local leadership as 1,646 commune council seats are on the line, ahead of the general elections for the prime ministership in 2018. What is supposed to be a positive time in a country with a long troubled past is being overshadowed by comments made by the longtime leader of the nation Hun Sen. Faced with a strong organized opposition for the first time, Hun Sen has warned that the country will plummet into civil war should the opposition party, led by Kem Sokha, win. While this may seem like a shocking comment from a supposedly democratic leader, given the recent history of the country and method of Hun Sen's ascent to power, it is hardly surprising.
Having first been part of the Khmer Rouge, then later a rebel against them in neighbouring Vietnam, Hun Sen first rose to power following the toppling of the Pol Pot regime. Installed in 1979 as minister of foreign affairs in the newly formed, Vietnamese-installed People's Republic of Kampuchea, Sen eventually rose to become the nation's leader in 1985. After losing an election to the royalist parties' Norodim Ranariddh in 1993, Sen refused to cede power, instead forcing Norodim to accept him as co-prime minister. Forcefully removing Norodim in a 1997 military coup, Sen consolidated his power by winning the 1998 election, amid accusations of intimidation and election fraud. Hun Sen has served as leader of the country ever since, making him one of the longest-serving current world leaders.
Despite having held numerous elections, Cambodia is still not considered a fully free and  functioning democracy. Classified as a hybrid regime (one level above fully fledged authoritarian) by The Economist's Democracy Index with a score of 4.27/10 (placing Cambodia between Pakistan and Myanmar in the rankings), and with the status of "not free" according to the World Freedom Index, it is clear Cambodia still has a long way to go. These abysmal ratings can largely be attributed to the strongman methods that Sen often employs to maintain the standing of his ruling CPP (Cambodian People's Party).
Since his ascension to power, numerous reports have been made documenting the authoritarian tactics that Sen employs to maintain sovereignty over the nation. Following the 1997 coup, the UN reported extrajudicial killings of opponents to Sen's government, remarking that "a culture of impunity for political homicide seems deeply embedded in the state's institutions." This culture of impunity seems to have continued throughout his rule, with the 2016 murder of well-known pro-democracy campaigner Kem Ley sending shockwaves across the country, days after his anti-Sen remarks on the public radio.
The comments which cost Kem Ley his life focused on shady business dealings and cronyism of the Sen government. Sen has installed family members in key positions at the top level of government, military and business.The Hun family's businesses are regularly granted government contracts, with family-owned businesses possessing mining concessions in five of the country's provinces. Three of Sen's children are listed as owners of Cambodia's largest electricity supplier Electricity Private, while his daughter Hun Mana owns Bayon Media, which broadcasts 3 television channels and a radio station. These are just two examples of the numerous ways the Hun family is profiting from the Cambodian people, which were exposed by Global Witness in July of last year. The Hun family is not scared to abuse its power for commercial gain, with its companies linked to widespread land-grabbing across the country, using fire and cobras to displace people from their homes. The Hun family's combined wealth is estimated between 500 million to 1 billion USD.
The main opposition party running against Sen in this election, the CNRP (aptly named the Cambodian National Rescue Party), is comprised of various opposition groups who banded together to form a coalition in 2013. Capturing 55 out of 123 seats in the 2013 December election, the CNRP claimed they actually won the election, alleging election fraud on Sen's part. This resulted in widespread protests against the results, which only ended when the CNRP capitulated by joining parliament early the following year.
Following the election, Sen has repeatedly used his supreme power over the country's institutions to keep opposition leaders in check. Former opposition party leader Sam Raisy was forced into exile, due to politically-motivated defamation charges levelled against him for 2008 comments against the foreign minister. Current CNRP leader Kem Sokha nearly found himself in the same position, with charges levelled against him by the government after failing to appear as a witness in a similar case administered against him. Sokha was granted a royal pardon allowing him to continue his political career, and he will be running against Sen in the 2018 general elections.
A ban in political polling has made analytic predictions of the result difficult. Despite that, Sokha has not been scared to predict a landslide victory. The CNRP has seen a large increase in their support base, particularly in urban areas. However, it has had a much harder time cracking the rural heartland of the country, where the majority of the voter base resides. Many attribute this to the patron-client system present wherein the CPP is the provider of services such as health care and roads. With the oppositions support steadily increasing since its inception, Hun Sen broke tradition and campaigned directly to his supporters, perhaps a sign he sees his support slipping.
While this upcoming election will not be the one which decides the fate of Sen's regime, it is an accurate barometer of what will happen next year in the general election. With Cambodia's recently troubled past and the numerous current issues it faces today, democratization is seen by many as a key to securing the country's future. However, the fact remains that, even if CNRP does win, Hun Sen will likely not relinquish power so easily. As history has shown, Sen is a cunning master of statecraft, and even if the people are against him, he is willing to do whatever is necessary to maintain his beloved status quo. However, ordinary Cambodians are getting fed up, and should Sen try to pull his usual tricks as he did following the last election, the CNRP and their supporters will doubtless rally once again, and this time they may not give up so easy.