McMUN 2017 Interview Series: IRSAM President David Cavey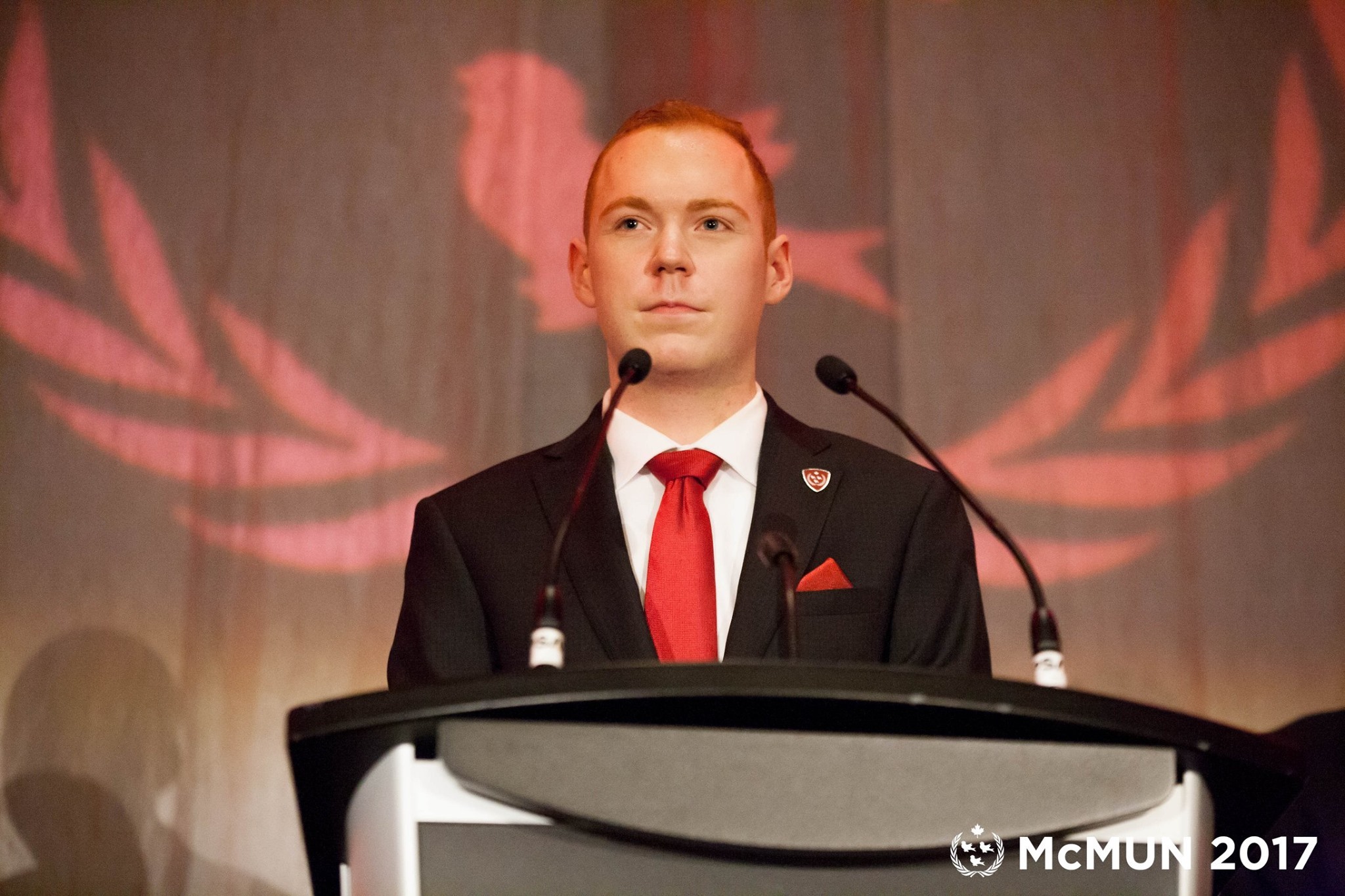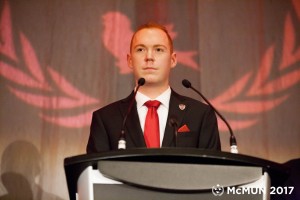 Avalon Hebert: Thank you for sitting down with me! Firstly, How did you get involved with model UN?
David Cavey: I got involved with Model UN in grade 8, so this is my 9th year with MUN. It was an up and coming club in my high school, and one of my good friends was starting it, and asked me to join. I went to a couple of conferences, and never stopped. Now I've been to MUN conferences all around the world, in every position; as a delegate, Dias member, committee director, page, secretariat member, and now as a board member.
That sounds really interesting, so tell me about your day today.
I've been in committee sessions all day today, and it's a really unique committee; I'm chairing the World Trade Organization and we were the only committee that went to the ICAO, which is the international civil aviation organization, which is headquartered down the street from here, so we had a committee with an actual UN body, which was quite interesting. No day is typical at McMUN, but my typical day at I guess is waking up really early, going for coffee, followed by committee session, then a committee lunch with everybody, then there's the Olympic pub crawl today and a lot of activities going on.
So what makes the committee you've been sitting with today a unique part of this year's conference?
The world trade organization is unique in itself that it settles trade disputes around the world, and we're discussing very pertinent trade issues in the world today. It's really interesting to see how engaged all the delegates are, they're all really into it. It's great to see that they've all put in so much research for these topics we've put together. We're really modern with our topics as well, like one of them this year is E-commerce, and people are engaged with that as well, and it'll be exciting to see what resolutions we come out with in the next couple of days.
That's great! It must be rewarding to see that kind of engagement. So what would you say to delegates who are coming to McMUN for the first time this year?
I think firstly to just take it all in, because it's a lot! There are a lot of people here, a lot of stuff going on, like literally thousands of people. There'll be something going on everywhere around you, so take it all in, have an open mind, and say yes. Just do everything, and if you see an opportunity, take advantage of it. Also to go to all of our evening events, meet new friends, and enjoy Montreal.
So as the President of IRSAM, what kinds of interaction do you get with the delegates, and what's your favourite part of that aspect?
My favourite part is chairing the committee, so I get a lot of interaction with the 64 delegates in the room, and I'll be with them all weekend. Other than that I guess just walking around the conference, in the hallways and elevators, in the lobby. Since I spoke at the opening ceremony and I'm a familiar face, people will stop me and talk to me, so I get to interact a lot that way as well. My favourite part is definitely the committee sessions, and spending time with 64 incredibly smart people and interacting with them in that setting.
As President of IRSAM, what's been the biggest challenge in organizing McMUN this year?
I think the greatest challenge is perhaps pulling it all together in the end. Like I said, there's a lot going on at this conference, and there's a lot of people involved, and we have close to 600 staff members this year. As the President of IRSAM, you're trying to kind of be in the know about everything that's going on, but also not interfering with people's work while still being aware of everything that's happening. It's always a challenge making sure everything goes smoothly and works well, but surprisingly everything runs well every year and works out in the end.
For sure, and it's impressive how big the conference has gotten and how many people put time into organizing it and making sure everything is running as planned. So lastly, what are you most looking forward to in the upcoming days of the conference?
I'm definitely looking forward to our last committee sessions, but also our social events. Our social events are an incredible opportunity to relax, because committee sessions can get very heated and intense, and the social events are a great time to relax, and have fun. It's a really great time for us to also have fun with the people we've been working with all year to organize the conference, so it's great to have fun with them, but also to get to know the other students who are here from all over the world.
Definitely, it must be great after watching everything come together. Thanks so much for taking the time to sit down with me David!