Myanmar, the New Emblem of Democracy?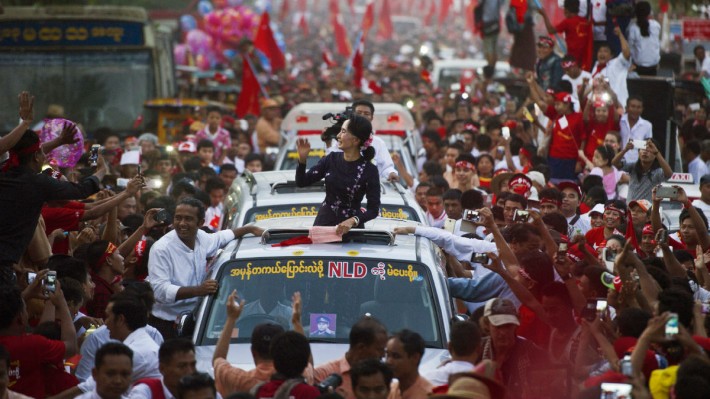 Aung San Suu Kyi amongst her supporters after victory for National League for Democracy at the November 2015 elections. (Reuters)
Military coup, dictatorship, fragile democracy – Myanmar, also known as Burma, has experienced it all. Independence hero, General Aung San could have never predicted his newly independent country was to become one of the most detrimental military dictatorships that would fuel the long and unsettling future his daughter, Aung San Suu Kyi, would have. As leader of the National League for Democracy (NLD) in 1988, Aung San Suu Kyi emerged as a symbol of enlightenment.  Peaceful protests and demonstrations, often turned barbarous and bloody by the military, were held in solidarity for what Suu Kyi stood for: the democratic freedom of the Burmese people. The harsh realities of a military regime became immediately evident when she was placed under house arrest in 1990. Suu Kyi, who was rightfully elected as leader in an election the military failed to recognise, became the most beloved person in Burma. 27 years after her powerful bid for democracy, she is now the leader of her democratically elected party, the NLD, and State Councillor of Myanmar.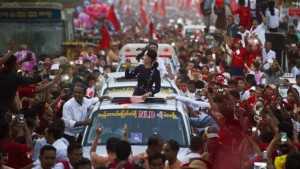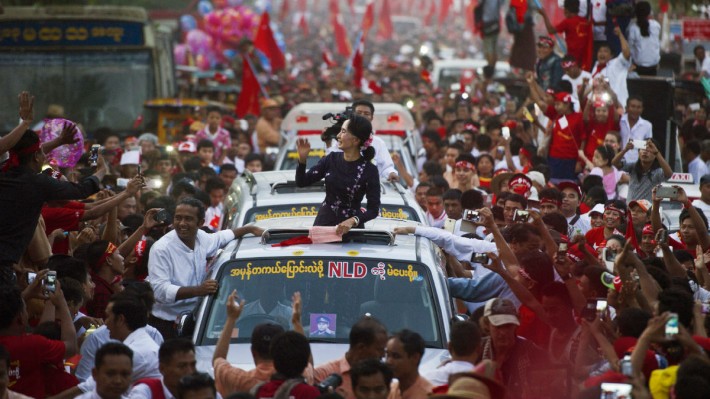 Suu Kyi has accomplished a remarkable feat: she is to lead Myanmar into its first period of democracy. For a country that has anxiously waited for democracy, the loved and revered Suu Kyi is what the country needs, and most importantly, what the country the country wants. However, she is also to lead a country that houses one of the worst cases of systematic persecution in the world. The Rohingya have been living stateless and hopeless since the military regime began in 1962. With much international pressure to deal with the Rohingya, Suu Kyi's actions towards helping the ethnic minority have been mediocre at best, threatening the legitimacy of the democratic state she wishes to champion.
As leader of a country whose economic and developmental growth has been one of the lowest in the region, one of Suu Kyi's missions is quite openly to bolster Myanmar's economy to come near those of the regional nations. She has already been looking to Western nations to reaffirm their support. The United States has announced the cessation of all sanctions against Myanmar, an action that will have a huge positive impact on Myanmar's economy. In their meeting, President Obama and Suu Kyi have called on Western investors to develop and explore Myanmar, a move that will surely benefit both parties.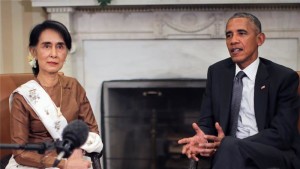 The United Kingdom, a state that Suu Kyi has incredibly close ties with, has pledged 118 million pounds in support for Myanmar. Moreover, Suu Kyi has not limited her economic prospects to Western supporters; in a 5-day state visit to China, the two nations shared commonalities with willingness to end the civil war in Myanmar fuelled by rebel groups with close ties to China. China's motives to become Myanmar's closest ally are quite clear as this land of untapped industry and gateway to Western Asia has much to offer Chinese investors. It is evident that Suu Kyi is open to most options that will help boost her country's economy, a motive greatly needed if Myanmar is to establish stability and prosperity.
Despite being perceived as a democratic hero, Suu Kyi is ironically both venerated and condemned for her stances on human rights. She made headlines in August for holding the "21st century Panglong", a peace conference in which all forms of government – military, multiple ethnic minorities, as well as key rebel groups – came to negotiate and discuss the future of Myanmar's diverse nature as a state. Praised by many for holding a historically significant conference in a country shadowed by ethnic civil war, Suu Kyi almost dodged a moral sanctions bullet until it came to the world's attention that the Rohingya Muslims, an ethnic and religious minority in the Buddhist-majority nation, were not invited.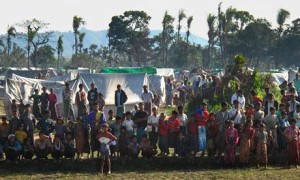 Declared by the UN as "one of the most persecuted communities in the world" the minority, comprised of 1.1 million people, are denied citizenship in Myanmar, freedom of movement, as well as countless basic human rights. Relentlessly persecuted by both the government and Burmese citizens, over 120,000 Rohingya have been internally displaced after a violent massacre took place in 2012. In 2015, thousands were left stranded at sea in an attempt to flee. The alternative of staying in Myanmar is no better with forced labour, lack of education and methodical oppression taking place.
Her ambiguous stance on the Rohingya has served as one of her greatest criticism's. Her refusal to use the term "Rohingya" in a speech made at the United Nations General Assembly left the international community in dismay.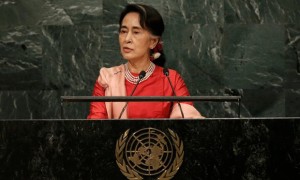 Met with moral encouragement to look into the matter of the Rohingya by none other than secretary- general Ban Ki Moon, the topic has been the awkward love child avoided by all too many foreign leaders when in discussion of their undeniable support for Suu Kyi. For a leader who advocates for "human values" to be the backbone in developing Burma, her evasive demeanour into the Rohingya issue is nothing more than despicable. Like many facets of politics, her vague stance is for the maintenance of public image.  More than anyone in Myanmar, Suu Kyi undoubtedly understands the fragility of her position, further reinforced by the fact that more than 25% of parliament seats are still occupied by the very military that advocated for her isolation. Her inaction on the Rohingya is also commonplace; resentment towards the Rohingya is a sentiment held by many Burmese citizens and the case may even be made that as state councillor she is supposed to represent the citizens who elected her, even more so, the citizens she is indebted to for supporting her for so long.
Nonetheless, even Suu Kyi could not afford to tiptoe around the issue forever. In August 2016, conveniently before any visits with Western nations, she set up an "Advisory Commission on the Rakhine State", where the majority of Rohingya reside. The Commission, absent of any Rohingya representatives, is headed by former UN Secretary General Kofi Annan.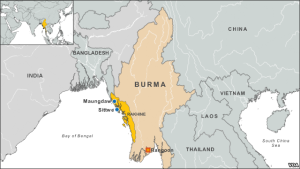 With Annan on her side, Suu Kyi can easily and has successfully brought up the commission as a legitimate example of progressive action. In the meantime, 1.1 million people are living without a protected identity, with no place to move and only horrors to endure. As an issue that dates as far back as to when the military regime began, surely more immediate action can be expected of Suu Kyi.
Suu Kyi's main priority is clear: to rebuild Myanmar into a stable democracy with a stronger economy. Suu Kyi is believed by many to be the only leader that can renew the values that her father instilled when Burma became independent. More than perhaps any other nation, she is a politician who is loved, supported and respected by her citizens. However, as a nation allowing for one of the most disastrous cases of current ethnic persecution in the world, continuous call for action should be made in order for Myanmar to be truly taken seriously as a democratic and tolerant nation. Suu Kyi does not get to be labelled as a bearer of human rights progression, nor does the Burmese government deserve a consolation prize for "trying" to be more democratic. Suu Kyi's leadership has potential and is a remarkable beginning for Myanmar but it is in no way immune to the accountability that must come with the continuous and systematic abuse of basic human rights.