Negotiating with the Schengen's Gatekeeper: Turkey and the European Migrant Crisis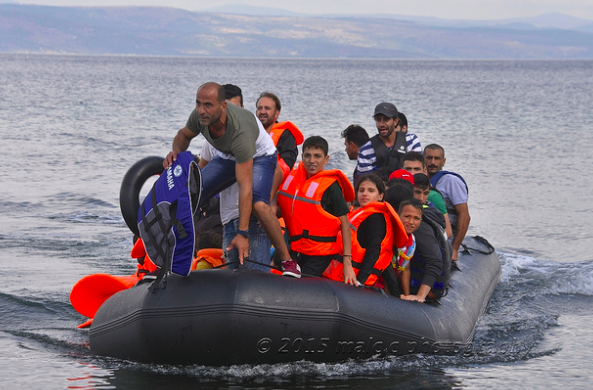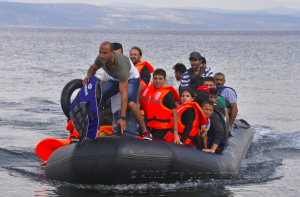 Europe is experiencing a migrant crisis of tremendous magnitude, the largest it has experienced since the Second World War. According to the International Organization for Migration, since 2011 4.6 million Syrians have fled their war-torn homeland to seek refuge in neighboring Middle Eastern states and in Europe. In 2015 alone, approximately 1.1 million migrants, roughly half (48%) of whom originate from Syria, arrived in Europe. No doubt, the Organization's figure would be higher still had the sheer number of unaccounted for migrants also been taken into consideration.
While the statistics are alarming in and of themselves, they provide no information as to how the unceasing flow of migrants has altered Europe's social and political dynamics.
Evaluating the relative concentrations of migrants in certain European destinations may help us in understanding this changing environment. Although Hungary, Austria and Sweden have received the bulk of asylum applications, Germany has quickly become the most popular destination for migrants. It should be noted that, in this context, the term migrant connotes not just Syrian refugees, but also other peoples, such as Iraqis and Afghans, fleeing danger in comparably unstable states, in addition to economic migrants, particularly from North Africa. Media outlets tend to evaluate the migrant crisis solely as a result of Syrians being driven from their homeland. But such an explanation is shallow, serving only to pull at the heart-strings of various audiences. Although a desire for peace and security remain the primary motivations for emigration from Syria, a variety of "push and pull factors" have incentivized a diverse range of migrants to head to Europe at an accelerating rate. This migration pattern has emerged in tandem with the increased number of Syrians escaping Assad's barrel bombs, making it increasingly difficult to distinguish persecuted migrants— those who genuinely qualify for asylum—from those hoping to capitalize on the vulnerability of the situation and gain arguably undeserved admission to Europe.
Deutsche Welle has reported that nearly 950,000 migrants (from Syria and elsewhere) reached Germany in 2015 alone. This is a staggering amount when considered in proportion to the total German population of approximately 80 million. Although many of the twenty-eight EU members states have pledged to accept an increased number of migrants in 2016, Germany has already welcomed fifty migrants and Syrian asylum seekers for every one received by other states, such as the United Kingdom. The explanations for this discrepancy vary from the higher economic incentives and the availability of ethnic enclaves in Germany to the German government's lingering guilt and desire to atone for the sins of the Third Reich by attending to perceived moral responsibilities. But at the core of the migrant crisis lies a fundamental ideological divide amongst EU member states and an aversion to constructing equitable migration policy. At the start of the migrant crisis, the general consensus was that Europe should help and accept persecuted peoples and manage their integration into European society. Presently, European leaders are struggling to balance the commitment to assist those in need with the commitment to the survival of European unity.
What EU member states can agree on, for the time being, is the need to manage Europe's borders and to asses the vulnerabilities of the of the porous Schengen Zone, which allows for freedom of movement between 22 of the 28 states in the Union. Turkey is the gateway to Europe for refugees and economic-migrants seeking the security of western Europe via Greece. According to the International Organization of Migration, more than 700,000 migrants have arrived in Europe following a short sea journey from Turkey to Greece. Once they are within Greek jurisdiction, the bulk of the migrants complete their journey to western Europe over land. Leadership in Brussels has thus turned to Ankara to help manage the "burden-sharing" of the migration crisis.
In November 2015, Turkey and the European Union agreed on a joint-effort to stem the influx of migrants into Europe. EU member states pledged 3 billion Euros (approximately 3.2 billion USD) in aid to be delivered to Ankara over a two-year period. In return, Turkey agreed to a controversial deportation clause which would allow for migrants whose European asylum applications had been denied to be returned to Turkey. Member states have vowed to restart talks regarding Turkish ascension to the EU and to grant Turkish nationals visa-free travel within the Schengen zone by the Fall of 2016. EU leadership hopes that by igniting Turkish hope of a strengthened partnership with the EU, Turkey will work diligently and will employ its domestic resources towards stalling the transit of refugees and migrants through Turkey en route to Europe. Additionally, EU states hope financial assistance will help Turkey better assist and assimilate Syrian refugees whose lives have essentially stagnated since 2011. At present, Turkey's 2.2 million Syrian refugees hold "special" status that allows for their prolonged presence, but bars them from legal work and schooling.

Throughout negotiations, European leaders have declared that any financial support offered to Turkey would come with "strict checks by the EU" and with extensive direction as to how the money should be allocated. In particular, President of the European Council, Donald Tusk, has articulated that the 3 billion Euros should be directed towards initiatives that would raise the standard of living of refugees through concrete projects, such as the funding of schools and support staff for refugees contained along the Turkish border with Syria. Tusk also expressed European desire for increased Turkish border and sea patrol to stem the migrant flow and to help Europe tighten its borders.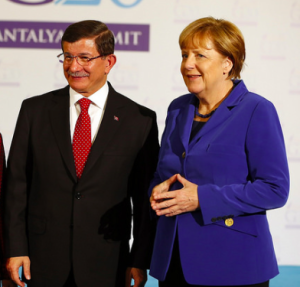 The deal was initially accepted by the Turkish government for the diplomatic progress it achieved. But this January, Prime Minister Ahmet Davutoglu expressed Turkey's desire for additional financial assistance and increased discretion regarding the funds' direction during his visit to Germany. Speaking to the German Press Agency, Davutoglu  reveled the initial "€3 billion [deal] is just to show the political will to share the burden… we are not begging for money from the EU. But if there is a serious will to share the burden, than we will have to sit and talk about all of the details of the crisis." After agreeing to the November deal, Turkey now seeks an additional 2 billion Euro, revealing it has already invested nearly 10 billion USD on migrant and border management, and thus requires additional financial support. Davutoglu claimed "a crisis has been exported to Turkey. Now, it has become a European crisis." The EU leadership has yet to officially respond to Turkey's demands for additional funding, although many diplomats have stated there is no interest to contribute an increased amount to the Turkish program. The details and the manner in which the initial 3 billion Euro will be raised are yet to be ironed-out by EU leadership.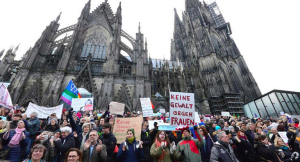 Although there is a lack of interest in increasing funding for the Turkish migrant deal, European leaders understand they must tread carefully, and look to Turkey as a strategic partner in the management of the current crisis. The time has come for Europe to devise a coherent, Pan-European solution to the migrant crisis, and Turkey is to be an integral piece of crisis' resolution. German Chancellor Angela Merkel has spent considerable time in prolonged talks with Davutoglu concerning Turkey and Germany's shared priorities as they progress into 2016. Merkel, after suspending the Dublin Accord last August, has realized the tremendous consequences of allowing the freedom of migrant movement within the European Union. Although she remains devoted to her humanitarian mission, "realist" policymakers in Germany are beginning to draw attention to the flaws in her "morally-correct" policy. Regardless of one's opinion regarding the obligation of European states to migrants, Germany and Europe as a whole are in dire need of better migrant management and resettlement initiatives. It is understandable that Merkel will strive to appease Turkey's leadership as German public opinion continues to sour following the toxic repercussions of the New Year's Eve incident in Cologne and the more recent claims of sexual harassment by migrant men "welcomed by Ms. Merkel". Additionally, other European leaders in support of liberal immigration policy are beginning to realize that they need Turkey to succeed as an effective buffer zone while immigration policy is formulated in the interim. "Winning" policy can not be effectively implemented in spite of public opposition and friction between EU member states. There is no "quick fix" in immigration policy, and European leaders must commit to reconciling their moral and democratic obligations with an effective and fair overhaul of the immigration framework. A continuation of the status quo will only feed growing hostility towards migrants and feed the public's growing disaffection and sense of vulnerability.
Photo credits to Flickr Creative Commons.
Works Cited
Akkoc, Raziye. "Turkey wants more money from EU after €3bn migration deal, Turkish PM says." The Telegraph. N.p., 3 Jan. 2016. Web. 2 Feb. 2016. <http://www.telegraph.co.uk/news/worldnews/europe/turkey/12114332/Turkey-wants-more-money-from-EU-after-3bn-migration-deal-Turkish-PM-says.html>.
Bozkurt, Abdullah. "Confusion on Turkey and EU migrant deal." Today's Zaman. N.p., 8 Jan. 2016. Web. 2 Feb. 2016. <http://www.todayszaman.com/columnist/abdullah-bozkurt/confusion-on-turkey-and-eu-migrant-deal_409139.html>.
Conrad, Naomi. "Merkel looks to Turkey for help to deal with migrant crisis." Deutsche Welle. N.p., 22 Jan. 2016. Web. 2 Feb. 2016. <http://www.dw.com/en/merkel-looks-to-turkey-for-help-to-deal-with-migrant-crisis/a-18997279>.
Dimitriadi, Angeliki. "The Janus face of Europe's migration policy." The European Council on Foreign Relations. N.p., 1 Feb. 2016. Web. 2 Feb. 2016. <http://www.ecfr.eu/article/commentary_the_janus_face_of_europes_migration_policy_5082>.
Ergen, Doruk. "Europe Must See Turkey as a Partner, Not Just a Buffer Zone Against ISIL." Newsweek. N.p., 14 Jan. 2016. Web. 2 Feb. 2016. <http://www.newsweek.com/europe-see-turkey-partner-not-just-buffer-zone-against-isis-415167>.
"EU 'long way from satisfied' with Turkish migrant cooperation." Hurriyet Daily News. N.p., 7 Jan. 2016. Web. 2 Feb. 2016. <http://www.hurriyetdailynews.com/eu-long-way-from-satisfied-with-turkish-migrant-cooperation-.aspx?pageID=238&nID=93542&NewsCatID=351>.
"Germany hands out cartoon etiquette guides at swimming baths after dozens of women were groped by migrants." The Daily Mail. N.p., 1 Feb. 2016. Web. 2 Feb. 2016. <http://www.dailymail.co.uk/news/article-3426142/Germany-hands-cartoon-etiquette-guides-swimming-baths-dozens-women-groped-migrants.html>.
"Germany: Migrant crisis on agenda as Merkel hosts Turkish PM Davutoglu." Euronews. N.p., 22 Jan. 2016. Web. 2 Feb. 2016. <http://www.euronews.com/2016/01/22/germany-migrant-crisis-on-agenda-as-merkel-hosts-turkish-pm-davutoglu/>.
Janning, Josef. "Germany's gambit: Turkey and the refugee crisis." The European Council on Foreign Relations. N.p., 28 Jan. 2016. Web. 2 Feb. 2016. <http://www.ecfr.eu/article/commentary_germanys_gambit_turkey_and_the_refugee_crisis5080>.
Karadeniz, Tulay, and Dasha Afanasieva. "EU's Mogherini confident of delivering 3 billion euros to Turkey in migrant deal." Reuters. N.p., 25 Jan. 2016. Web. 2 Feb. 2016. <http://ca.reuters.com/article/topNews/idCAKCN0V312F>.
Malik, Kenan. "Europe's immigration bind: how to act morally while heeding the will of its people." The Guardian. N.p., 31 Jan. 2016. Web. 2 Feb. 2016. <http://www.theguardian.com/commentisfree/2016/jan/31/europe-bind-act-morally-on-immigrants-heed-its-citizens>.
"Migrant crisis: Dozens drown off Turkey as boat capsizes." BBC. N.p., 30 Jan. 2016. Web. 2 Feb. 2016. <http://www.bbc.com/news/world-europe-35450290>.
Piscioneri, Francesca. "Italy drops objections to EU migration fund to Turkey." Reuters. N.p., 2 Feb. 2016. Web. 2 Feb. 2016. <http://uk.reuters.com/article/uk-europe-migrants-turkey-italy-idUKKCN0VA30K>.
Smith, Heleana. "Greeks worry threatened closure of EU border 'would be the definition of dystopia'." The Guardian. N.p., 30 Jan. 2016. Web. 2 Feb. 2016. <http://www.theguardian.com/world/2016/jan/30/greece-threatened-closure-eu-border-dystopia>.
Spiegel, Peter. "EU deal with Turkey failing to stem migrant flow."Financial Times. Web. 7 Jan. 2016. <http://www.ft.com/intl/cms/s/0/d62b85ca-b539-11e5-8358-9a82b43f6b2f.html#axzz3z9iiwhlG>
Tastevin, Fehim. "How the Islamic State is still seeping through Syria-Turkey." Al Monitor: The Pulse of the Middle East. N.p., n.d. Web. 2 Feb. 2016. <http://www.al-monitor.com/pulse/originals/2016/02/turkey-syria-greedy-smugglers-islamic-state.html>.