Peru's Elections Shines Light on Dark History of Forced Sterilizations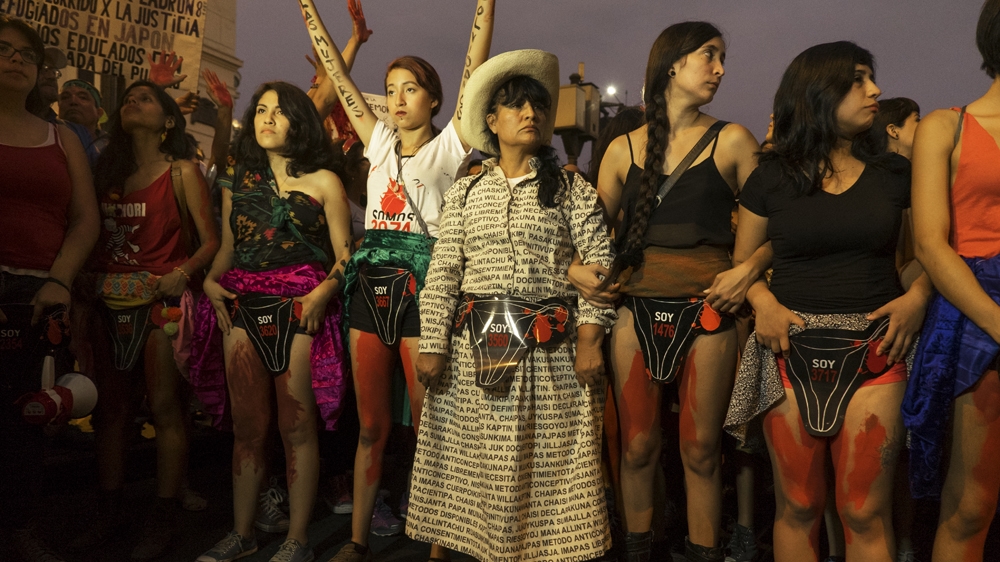 Protestors pain their legs red to symbolize the forced sterilizations. Credit: Eline van Nes/Al Jazeera
On Sunday, April 10th, Peruvians went to the polls, to elect a successor to current President Ollanta Humala, ineligible to run for re-election. Conservative candidate Keiko Fujimori and daughter of former president and currently jailed Alberto Fujimori, led the election with 39.5% of the vote. Failing to win outright, due to the 50% needed to secure power within the first round, Fujimori now faces a June run-off against the other conservative candidate and former World Bank economist Pablo Kuczynski.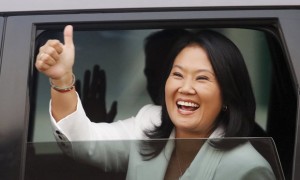 This election has been controversial, with tensions running high in Peru due to Keiko's father's divisive history. Serving a 25-year prison sentence for human rights abuses, murder, corruption and kidnapping while in office, many fear her victory would highlight her father, his entourage and questioned legacy. Despite efforts to disassociate herself from her father and pledge not to pardon him if elected, many are skeptical to what Keiko's success could signify for Peru.
Despite the many issues raised with her connection to her father Alberto, one of the most devastating remains the 300,000 Peruvians who were forcibly sterilized under his regime in the 1990s. In the days before the vote, 30,000 people took to the streets in Lima to protest her running for presidency and to march for the sterilization survivors, who are overwhelmingly female and indigenous and who are still waiting for justice and compensation.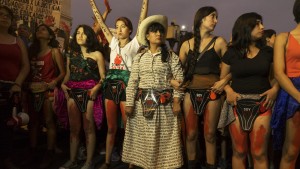 This case is particular as forced sterilization under the country's National Reproductive Health Programme was used with the purpose of providing family planning services for the country's poorest. Most problematic however, was the fact that clinics were provided with incentives to achieve their required targets by offering tubal ligation as the only form of birth control. Numerous women were presented with food, money, or supplies as bribes or incentives to undergo the procedure. Conducted almost exclusively on Quechua, Aymara, Shipibo and Ashaninka people, many could not even understand what was happening or give proper consent due to the fact that they could not speak Spanish. Several individuals were sterilized without consent, as demonstrated in at least 2,074 cases where women gave statements that the procedure had been done against their will. Operations were carried out in insanitary conditions by workers without proper medical training which led to painful complications for many women.
As demonstrated in the run-up to this year's general elections, the repercussions of this state policy have been monumental, continuing to affect several families and lives. Many suffer from emotional, psychological or physical trauma that prevent them from doing heavy work necessary for their survival. Justice has yet to be served, with countless victims continuously stigmatized for not being able to have any children.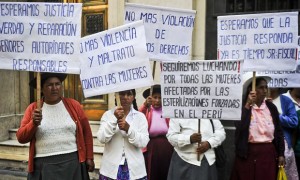 Civil society has played a crucial role for those affected by providing an opportunity for testimonial, which led to current president Humala creating an official record for the victims of forced sterilizations, where women will be able to go forward and request that their case be officially recognized without having to go through the court system. Human rights initiatives such as The Quipu Project, a multimedia documentary project and phone line allowing women to record, and share their experiences, have given a voice for those affected to shine light on the sterilizations, connect and form a community around the issue in order to ensure that these human rights abuses are to never be repeated. As a result, the goal of the investigation (scheduled to close in 2016) has become to compensate all those sterilized without their consent as well as to urge the judiciary and officials to investigate all cases of forced sterilization.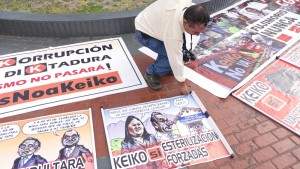 As is often the theme within Latin American politics, the reproductive rights of those most marginalized have become an issue that candidates such as Keiko Fujimori must face and fully recognize. As demonstrated by the protests in the past couple of weeks, this dark period of Peru's past will be crucial for Keiko to acknowledge in the June 5th run-off, as citizens will continue to walk the streets chanting "We are the children of the villagers who you couldn't sterilize" and "Never Again Fujimori".