Rising Intolerance in India: Protecting Secularism, Pluralism and Democracy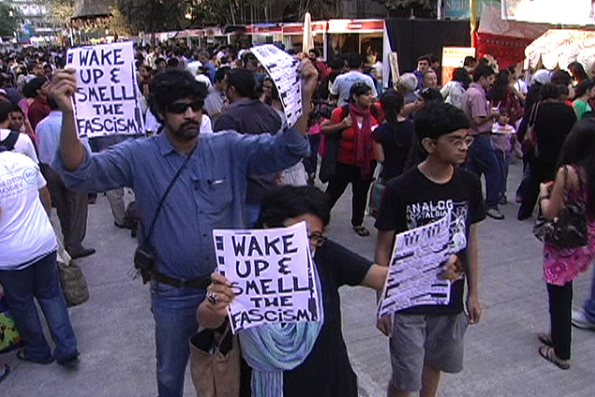 Image via Flickr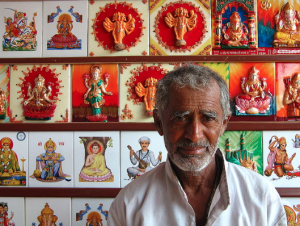 For a country lauded for its tolerance over a wide variety of religious beliefs and practices, India is seeing the rise of an overwhelming right winged Hindu nationalist movement. India's constitutionally upheld secular image is deteriorating. The former part of this year has seen 24 out of 29 states implement bans on beef consumption or possession as Hindus consider cows as sacred animals and slaughtering them would be blasphemous. Furthermore, the frequency of attacks on Muslims has increased, instilling fear within a community that makes up 14% of India's population. The country's liberal elements have also come under threat following murders of atheist and rationalist scholars. Although the ruling Bharatiya Janata Party's (BJP) philosophy is to push for 'Hindutva' or cultural nationalism, they stress their disassociation from any religion. However, the government's silence in light of recent religiously charged violence has brought into question India's social, economic and political future.
Some political analysts have argued that religious discourse has always plagued India's democracy and will continue to do so. However, widespread protests by the intellectual community is what makes this time period of religious intolerance unprecedented. Around 40 writers have given back their Sahitya Akademi awards, a prestigious award given for literary excellence, to protest intolerance and the lack of free speech. These protests gained popularity following the murder of scholar Malleshappa Kalburgi by a Hindu right-wing group in August. Kalburgi was an atheist scholar who frequently wrote criticisms of superstitious beliefs.
Since the incident, notable writers such as Salman Rushdie and Amitav Ghosh have taken to social media to express their discontent for the right-wing government and Narendra Modi, India's prime minister. It could be argued that the role of social media and print is critical in the question of intolerance as it both exacerbates community divisions and serves as a platform to voice concerns over violence, mitigating some radicalism. For example, anti-government terms like 'Modi Toadies' circulating the Web and Hindu extremist rhetoric through magazines such as Panchjanya could further deepen communal and partisan divisions. Conversely, intolerance could be alleviated by government mediation which is exactly what an open letter to the government argued. This letter was drafted and signed by multiple Indian scholars and historians around the world.
Right wing radicalism has come to the fore in several forms. Firstly, Hindu organizations like Rashtriya Swayamsevak Sangh (RSS) have introduced new practices like 'Ghar Wapsi'. The RSS is an organization that promotes Hindu nationalism and is reputed for orchestrating communal violence. Ghar Wapsi, on the other hand is a conversion practice of non-Hindus to Hindus. This practice has been deemed to have violent tendencies as it sparks conflict with India's Muslim and Christian communities. Secondly, government funded educational institutions are heavily influenced by Hindu teachings. History books have allegedly been rewritten to highlight and reinforce the Hindu identity. Thirdly, cases of unmarried couples' arrests have flooded the news. These couples were mostly harassed and chased out of their hotels and yet the arrests have been said to be on the grounds of public indecency. In a democratic country where citizen rights are upheld and protected under the Constitution, indecency stipulated by Hindutva extremists should not be considered legitimate grounds.
A controversial question surrounding the topic of intolerance is whether the government is mandating the havoc created by the radical right. Distinguished historian Romila Thapar argues that the government's role of propagating intolerance might not be outside the realm of possibilities seeing as their historical actions were along similar lines. The BJP became prominent in the political field in the 1980s over the Babri Mosque conflict. The Mosque was built upon a well known and worshipped Hindu site. The BJP was instrumental in the demolition of the Mosque in 1992 thus winning over the Hindu vote share. In addition, Modi is a former member of the RSS. Therefore the tragic 2002 anti-Muslim attacks in Gujarat were pinned on Modi since he was the state's chief minister and made ambiguous and controversial statements that could be interpreted as permitting violence over Muslims.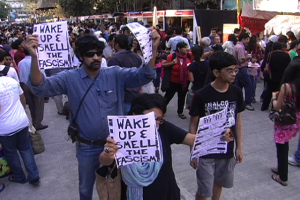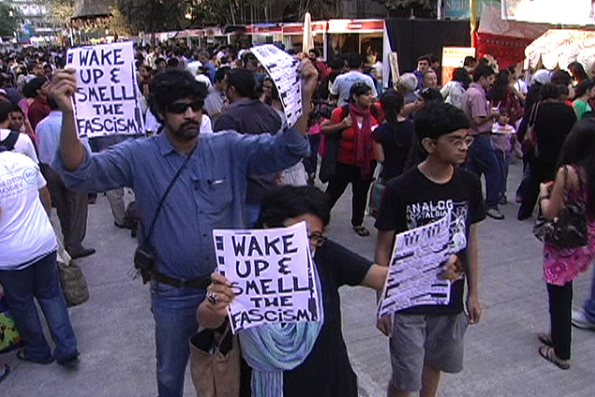 However, a strong defence for the BJP is that the main opposition party, Congress, could be propagating intolerance as well, especially through social media. The Indian National Congress Party supports the Muslim population in India and has always been at loggerheads with BJP. So Congress could be spreading anti-government rhetoric in order to undermine BJP's governance. Moreover, the economic minister, Arun Jaitley called the protests a "left liberal opposition". Since the 2014 General elections resulted in a BJP majority, the minority parties may want to tip the vote share for future elections.
The role of the government in rising intolerance is not very lucid given the lack of evidence. However, the destructive actions of religious fanatics seem to carry on regardless of the punishment laws put in place. Therefore, one can question why these people have an almost presumptuous attitude toward the consequences of their action. Political analysts have taken a structuralist approach and argued that due to inefficient bureaucracies, loopholes can easily be found in laws. In turn, bent or undermined laws lead to a continuously corroding administration of law. Moreover, fringe right wing groups that carry out attacks tend to remain anonymous in their relatively moderate religious groups. In other scenarios, members of communities and religious groups that have knowledge of perpetrators do not voice their concerns to authorities because fear of the law backfiring against them. This argument could also be tied into structural problems. Additionally, deaths resulting from attacks can be interpreted as martyrdom, perpetuating intolerance.
Further concerns about the extent intolerance is affecting the private sector have been expressed by the current Governor of the Indian Central Bank, Raghuram Rajan. He urges the government to intervene and settle the situation as he believes "tolerance is essential for faster economic growth." India has been branded as one of the fastest growing economies in the world and is the 7th most valuable 'nation brand', a statistic that represents the symbolic value given to products and exports. On the social front, Indian-Pakistani relations are severing further. In October a famous Pakistani singer's concert was cancelled by Shiv Sena, the right winged ruling party in Mumbai. As arguably India's most liberal and cosmopolitan city, incidents like this could hurt Mumbai's lucrative entertainment industry.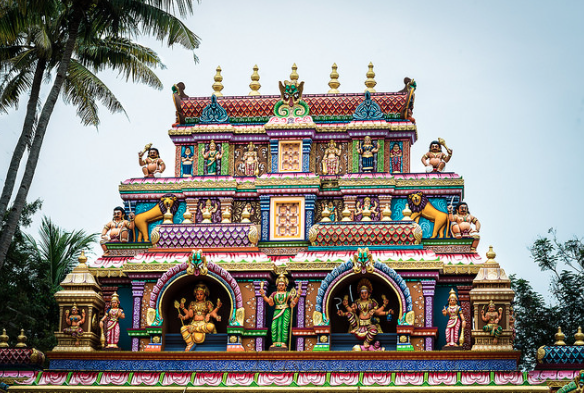 At the start of Modi's governance, the primary goals for India were development through economic growth and improved foreign relations. So far Modi has proven to be global icon in these fields. However, the issue of religious intolerance could soon dampen that image, and more importantly, have adverse consequences on the unity of the Indian people. It will be difficult for Modi to grapple between extremists and liberals since the Hindutva community is his core supporter but the liberal space in India is also widespread.