"Stop Doing Things Badly": Los Angeles Teachers Face Off Against School Board for Better Working Conditions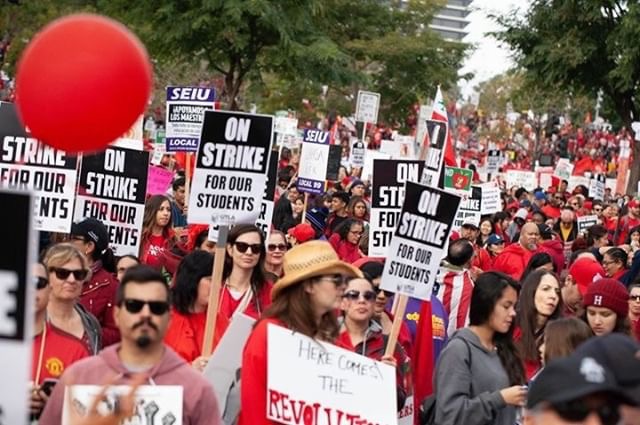 Credits: Rogan Ferguson
Few cities evoke the image of leisure and luxury as well as Los Angeles. With its metropolitan economy, entertainment industry, and sunny climate, LA seems like one of the last existing bastions of the American Dream. However, this projection of material wealth is but one of the many realities in a city of four million people. In the background of booming financial and cultural sectors, thousands of Los Angeles residents suffer from institutional neglect. Nowhere is this neglect more present than in the management of the Los Angeles Unified School District (LAUSD).
Amid political efforts to charterize public education, students and teachers in LA are deprived of basic resources needed for their safety, wellbeing, and success. In response to the school board's failure to meet these needs, over 32,000 teachers went on strike from January 14th-21st. Protests and subsequent negotiations revealed conflicting business and labor agendas in the sphere of Los Angeles public policy.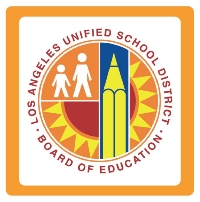 LAUSD is the second largest school district in the United States, comprising 1,322 schools with over 60,000 students. In 2018, 80% of these students were living in poverty including 15,665 identified as homeless. According to LAUSD's mission statement, the district strives to provide them with a learning environment based on the core beliefs of "mutual respect, excellence, high expectations, equity, access, and collaboration." Exam scores and statewide school rankings suggest that these goals have not been met for many students in Los Angeles. Records released by the California Department of Education show that LAUSD has the highest number of low-performing schools in the state. According to the Every Student Succeeds Act (ESSA) signed in 2015 by President Barack Obama, these schools require government intervention in order to raise academic standards. Intervention in the form of federal grants and assessments is intended to support schools in disadvantaged areas while holding teachers accountable for the success of their students.  
ESSA's strict accountability standards place LAUSD teachers under direct federal scrutiny. However, low-performance rates point to deeper structural problems within the district. I interviewed Los Angeles educator and union member, Greg Schiller, to better understand the context of the 2019 teacher strike. According to Schiller, the main barrier for academic success is "Administrative, period. The people who have control are no longer in the classrooms." Schiller has worked in public education for 25 years and currently teaches biology and psychology and Ramon C. Cortines School of Visual and Performing Arts. He is an active member of United Teachers of Los Angeles (UTLA), a teachers union where he serves on the House of Representatives, the Secondary Committee, and as vice-chair of his school's union chapter. For Schiller, unionization is essential for all teachers, parents, and students in LAUSD. He explains, "Unionization is power, in a nutshell. We are stronger when we work together for all people."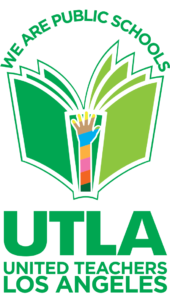 Since its inception in 1970, UTLA has fought to improve working conditions through collective bargaining. Current demands include reducing class sizes, increasing full-time staff positions, special education, union rights, and fair wages. Despite a broad membership base, mobilization is regularly thwarted by red tape at the district, state, and federal levels. The most damning obstacle came from the Supreme Court decision in Janus v. AFSCME Council 31, on June 27, 2018. The Janus ruling dismantled agency shop by making it unconstitutional to charge "fair share" fees for collective bargaining. "Fair share" fees refer to charges on non-union employees who benefit from representation and negotiations. As a result, workers must now opt-in to paying dues that help finance union activity. This blatant attack on labor rights has come at a dangerous time for public schools in the United States. 
Political challenges to  public education are best embodied by current United States Secretary of Education, Betsy De Vos,  who Schiller calls "the biggest slap in the face to teachers everywhere." De Vos's outspoken support of charter schools and lack of experience highlight the encroachment of business agendas on education policy. LAUSD followed suit by appointing billionaire investment banker, Austin Beutner, as superintendent on May 1, 2018. Like De Vos, Beutner has expressed support for corporate-run charter schools and has no background in education. Beutner's appointment suggests upcoming changes for public education administration. However, his policies as the superintendent thus far show that these changes may come at the expense of the students in Los Angeles.
The expansion of charter education is a focal point of many conservative education reformers in the United States. Although they are publicly funded, Charter schools, or public schools of choice, operate within a neoliberal economic model. In this framework, independent charter schools compete amongst themselves for student enrollment, funding, and resources. Because they are privately managed, charter schools face fewer regulations and have low rates of union membership. According to reformers like De Vos and Beutner, school choice raises academic standards by stimulating competition. In practice, this competition can be harmful to traditional public schools. Since 1998, growing numbers of charter schools have resulted in declining enrollment and insufficient funding for public schools in Los Angeles. In response, capping charter school growth has become a key demand of groups like UTLA.
UTLA has called Beutner's reforms undemocratic because of his failure to involve union members, parents, and students in decision making. Beutner's vision for streamlining LAUSD involves dividing the district into 32 privately managed portfolios. Each portfolio would include a decentralized network of competing charter schools. This system would both facilitate the closure of low-performing schools and disempower collective bargaining organizations. 
Beutner has initiated this process by stripping schools of vital funding needed for their success. Despite a reserve of $1.86 billion (25% of LAUSD's administrative budget) district schools are unable to provide students with full-time nurses, psychiatric counseling, up-to-date resources, and smaller class sizes. By gradually starving Los Angeles public schools, Beutner is producing the circumstances that will allow him to outsource LAUSD to the private sector.
Schiller spoke about the conditions under Beutner, explaining, "There have been numerous occasions when we didn't have a nurse on that particular day, on that particular time. So I was the de facto nurse, whether it was giving out band-aids, or finding a place for a kid to sleep, or holding a kid's head to the side while they're having a seizure. I once had to give mouth to mouth because a student stopped breathing and nobody would call 911."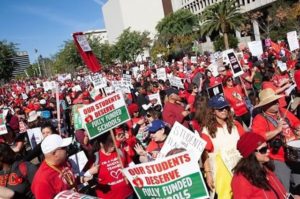 Ultimately, it was these conditions that inspired one of the largest strikes in LAUSD history. The 2019 strike echoed earlier movements in 1969 and 1989 in which teachers pushed for union rights and better funding. However, widespread participation earlier this year could mean a turning point for public education in Los Angeles. Schiller described the event as "one of the most powerful strikes I have ever been in. There was such solidarity on the picket line, there was such power in our numbers. Marching with us were parents, students, families. I really felt support."
This solidarity translated to a victory for public education. The strike was settled with a tentative agreement between UTLA and LAUSD on January 22. The agreement outlines a series of reforms including, a charter school cap, class size reduction by 2021, a +3% salary increase, and greater protection for union members. The implications of the 2019 LAUSD teacher strike are far-reaching. Negotiations between UTLA and the school board have shown that administrative indifference toward the public sector will not be tolerated. According to Schiller, parents, teachers, and students of LAUSD have made their point clear: "Stop doing things badly."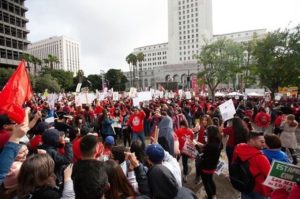 Los Angeles is home to many realities. It is a city where the American dream is simultaneously magnified and destroyed. Where abundance and insecurity live side by side. Los Angeles suffers from acute inequality reinforced by the conflicting visions of business and labor classes. But this conflict is also the source of resilience within the city. It has inspired groups like United Teachers of Los Angeles who have found agency and energy in their numbers to bring change from below. By striking for public education, UTLA is making the right to dream a reality for all students in Los Angeles. 
Edited by Luca Brown