The 4th Democratic Debate & Sad O'Malley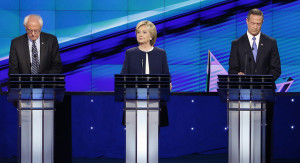 The fourth Democratic debate took place this past Sunday, January 17th in Charleston, South Carolina. Candidates Hillary Clinton, Bernie Sanders, and Martin O'Malley took the stage for two hours to discuss a variety of issues ranging from gun control to homeland security and foreign policy.
In my view, this debate did little to advance the ranking of any of the candidates. Journalist Chris Cillizza claims that Bernie Sanders came out as the "winner" of the evening but as discussed before, I think that the back-and-forth about debate winners is a bit overdone. All three of the candidates maintained the positions they have supported and did so forcefully but respectfully. Poor O'Malley had to beg for time to discuss his platform, asking moderator Lester Holt, "Can I get 30 seconds too?" before demonstrating this sad face. According the RCP Average, O'Malley is polling at around 5% of the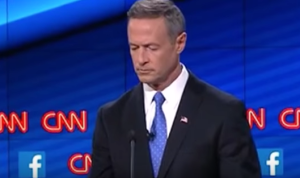 Iowa Caucus predictions. It can be said with relative clarity that O'Malley is due to drop out of the race any day now, despite his credentials and general squeaky-clean image.
Clinton and Sanders continue to go head-to-head. While the National RCP Average pits Clinton at 51% and Sanders at 38%, the Vermont Senator continues to gain group on the former Secretary of State. What is now clear for Hillary Clinton supporters like myself, it is now unwise to believe in her inevitability as Democratic nominee. With 13 days to the Iowa Caucuses and 21 days to the New Hampshire primary, we are down to the wire. It will be interesting to see how the candidates, Democrat and Republican alike, buckle down in the next few weeks to prepare themselves for these important primaries.
With 293 days until the election,
Phoebe Warren