The Planet Goes to University
An estimated 150,000 marchers convened on Rue Berri in Montreal for the Planet Goes to University March on March 15, 2019. Photo taken by John Weston.
On March 15th, students around the world walked out of their classrooms and took to the streets to protest for the environment. On that day, there were events registered in approximately 112 countries for 1,964 actions and nearly two million participants in total. In Montreal alone, up to an estimated one hundred and fifty thousand marchers flowed out of metro stations from secondary schools, universities, and college campuses with posters expressing the immediacy of a climatic crisis. Those emerging from Mont-Royal metro may have even seen Manon Massé, co-spokesperson from the opposition party Québec Solidaire and environmental advocate, participating in the march. The crowd extended from Mont-Royal Avenue, snaking down Parc Avenue through downtown streets before eventually filling up Rue Berri from Rue Saint-Catharine and the city's core. No matter the location, one could hear the din of excited voices rising and falling with the wave of bilingual chants like "À qui la rue? À nous la rue!" ("Whose streets? Our streets!") and "Crieons – plus forts – pour quelqu'un ne nous ignores" (Yell – louder – no one can ignore us all!). Or, at Monument Georges Etienne-Cartier, an energetic drum corps attracted a crowd of marchers who danced along to the steady beats and participants could hear the echo of their music as they marched in solidarity.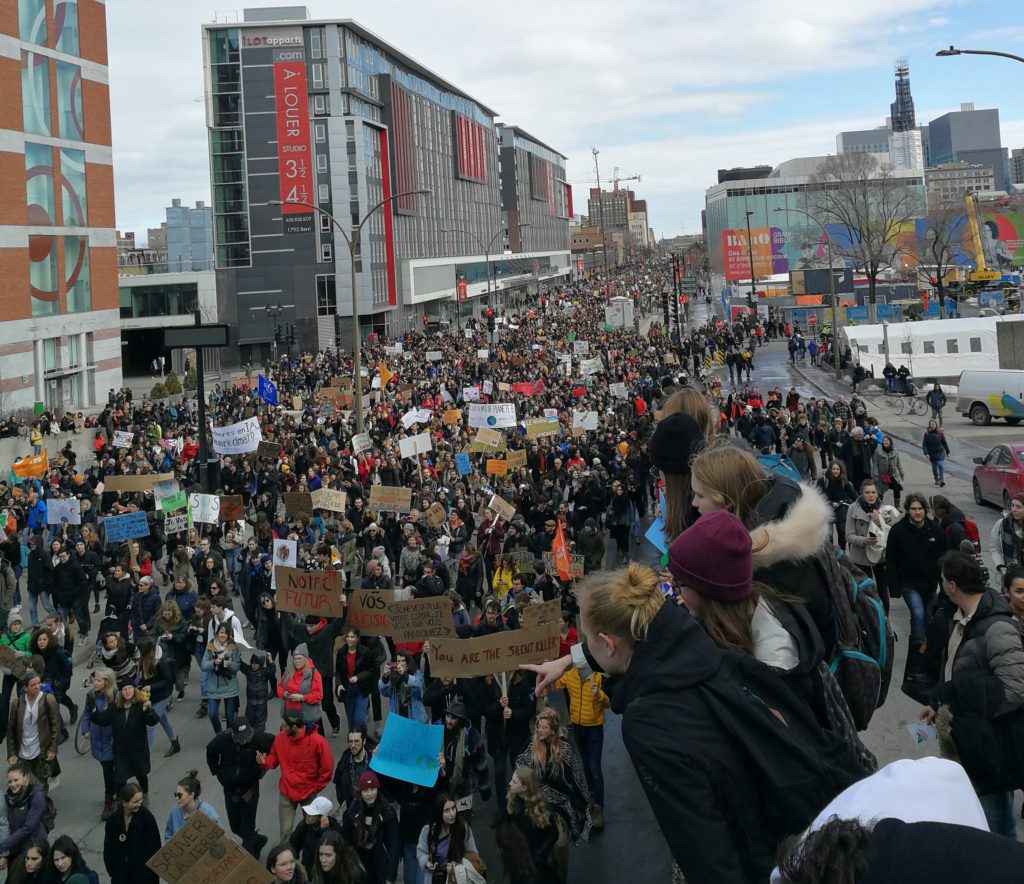 A larger scale collective responsible for organizing the strike and previous marches such as the "Planète s'invite au Parlement" (The Planet Goes to Parliament) in November 2018, called upon youth to step up and organize for the most recent protest. Students and youth did not disappoint; organizing sit-ins, walk-outs, speeches, and promotional efforts via social media.
For example, students at University of Laval conducted a sit-in in Pavilion Desjardins, Laurier CEGEP students walked-out of class, Francophone high school students formed picket lines around their schools, and McGill and Concordia students held speeches at their respective universities before assembling to march together. Some professors at McGill encouraged their students participate in the march, walking alongside them, while others chose to conduct business as usual.
Regardless of the response, students and staff were well aware of the protest in part due to the efforts of youth organizers like McGill student Christina Lau. A climate activist inspired by the likes of Greta Thunberg and involved in local activism like Divest Mcgill, Christina explained that to achieve climate justice, students need to educate themselves, show up to protests, and "[form] a strong community [by] empowering each other to take action and speak up." To do this, she and other McGill students prepared extensively for the protest on the ground and on social media. For example, they "secured a permit for the protest and campus security [was] present." They shared the event with professors; many of which she claimed requested she and her colleagues promote the walkout to their classes. They also spoke with the Dean of Students who "thought the [climate protest] event was a great idea." Beyond securing administrative support, the group heavily promoted the event to students via social media and within student government.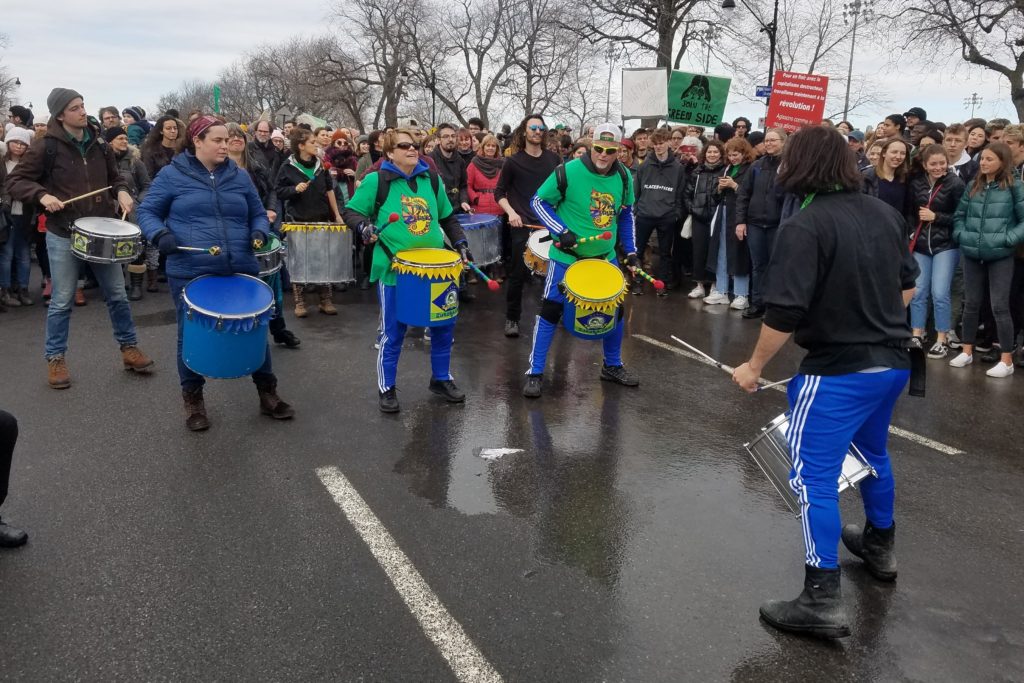 The goal of the walkout, she says, was to "encourage people to become more involved. I hope that people join our internal organizing group and also take action any way they can to elevate our voices and our demands." There are many ways to accomplish this, she asserts, like joining on-campus groups like Divest McGill who rally every Friday or getting out and protesting at future "The Planet Goes to University" events such as those planned on April 22nd and 27th.
Indeed, information is shared via social media at the speed of light, travelling beyond borders and augmenting knowledge of potential threats – real or otherwise. Those participating in the march could be seen with their phones recording the event, taking photos of signs, or laughing at posters with witty punchlines and internet memes reconfigured for the march. For example, the Planet Goes to University page was lit up with members posting photos, asking for directions, and later, sharing events and news clips. It is clear that the main function of social media for future mass movements is not only one-time participation, although for that they are crucial, but also long-term mobilization and tangible results.
On March 13th, the Planet Goes to University collective published a press release on their Facebook page accepting the Quebec Environment Minister, Benoit Charette's request to meet with them after the demonstration. In it, the organizers reiterated the estimated number of events occurring not only in Quebec, but worldwide. Prior to the even, they emphasized the march's wide support given that "more than 110 000 students, from all over the province, voted in favor of the March 15th strike and will be on the streets of Quebec, alongside all civil society [groups] invited to participate in different marches." [translated from French]. Moreover, they invited Quebec politicians to share their support by participating in the march itself.
Despite hope for a productive discussion, the collective's representatives left the March 22nd meeting disappointed. Organizers stated that they were not convinced the Coalition Avenir Quebec (CAQ) government, Quebec's provincial the party in power, was taking adequate steps to achieve climate targets necessary to prevent irreversible climate damage as defined by the Intergovernmental Panel on Climate Change (IPCC) in October 2018. Particularly, activists felt a general lack of urgency and worried that the CAQ's climate efforts were misguided – focusing broadly on public transport rather than more radical initiatives.
However, Charette continued to defend the CAQ environmental plan. The climate minister upheld that under a plan to be released in the coming months, Quebec would make a concerted effort to reduce greenhouse gas levels by 37.5% by 2030. Moreover, he cited the government's budget including a multi-million dollar investment into electric public transport and the industrial sector. However, the recently published budget tells a different story.  Extensive road infrastructural projects dwarf that of green public transit — $24.6 compared to $9.0 billion; possibly reversing any environmental impact green public transit may potentially have.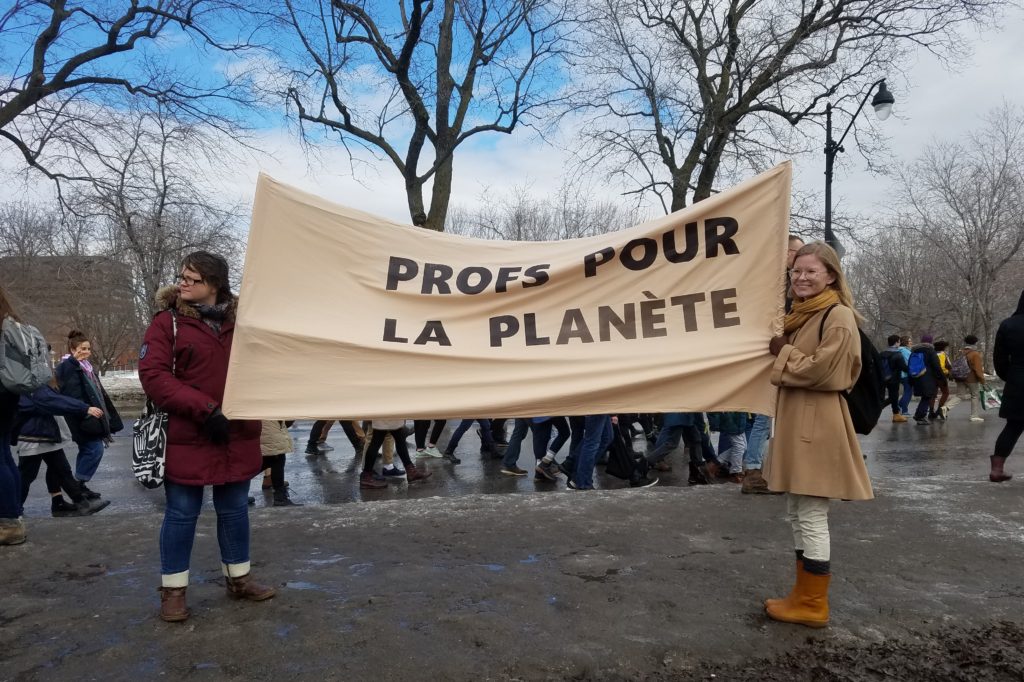 Regardless of the political establishment's excessive inertia, the next generation's leaders are organizing in huge numbers to pressure leaders to enact environmentally-friendly legislation. Even youth who are too young to vote became involved, using boots-on-the ground activism like the March 15 strike to politically mobilize. Moreover, in interviews with the MIR, some voting age march participants expressed concern and distrust in the formal political system, garnering hope — albeit cautious — from collective action instead. 
Among those interviewed by the MIR, there was an overwhelming sense of urgency and desire for action; a fear of what the future, climate-changed world will look like for young generations; both present and future. As one young organizer told the crowds, it is difficult to wait for the future and concentrate on studying when the world for which youth are told to prepare may — and likely will not — exist by the time they have established themselves.
Edited by John Weston