The Unknown Uprisings: Five Years Later, Bahrain's Protests Still Virtually Ignored In the West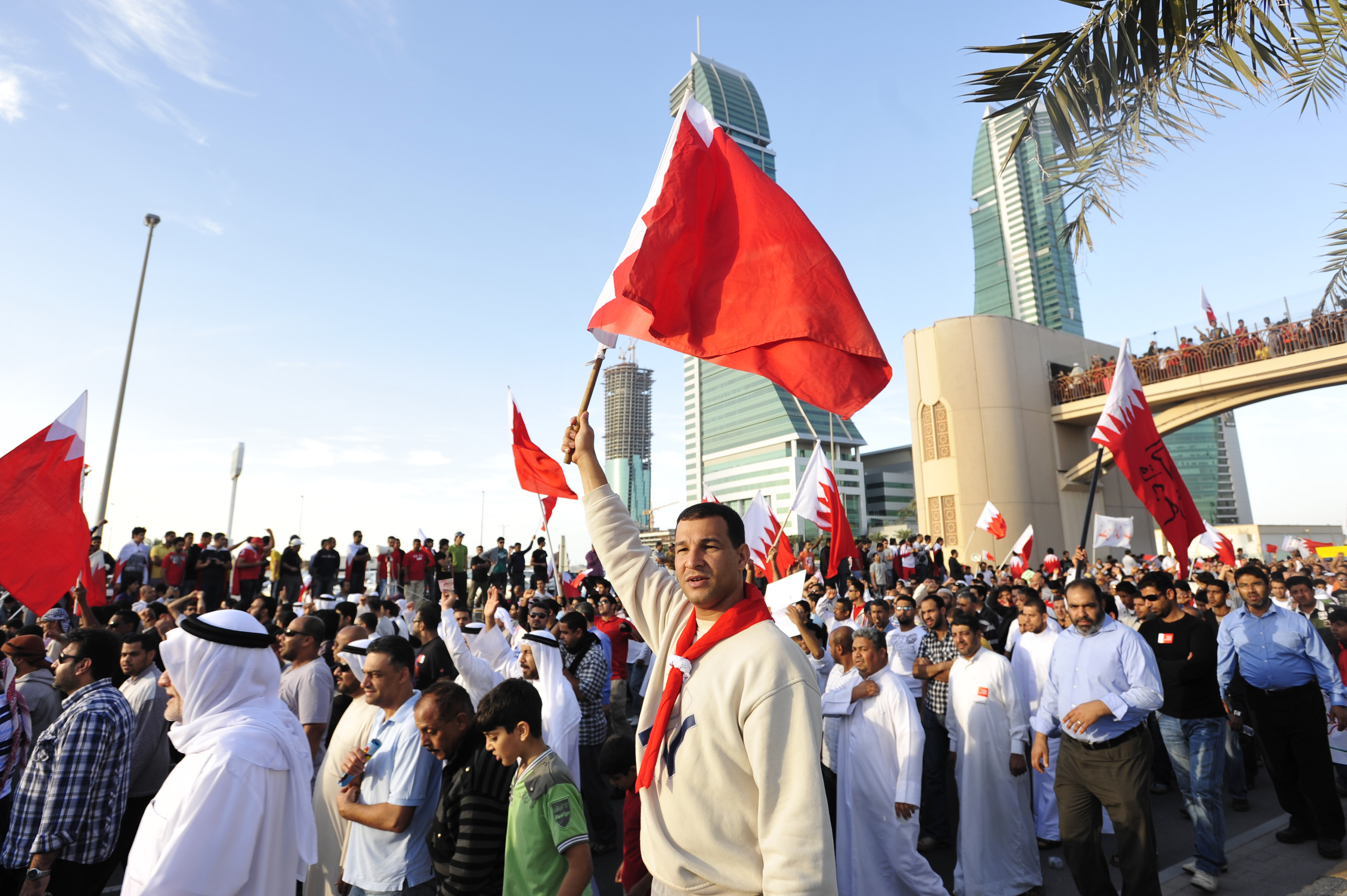 "bahrain uprising" by Ryan Bayona https://www.flickr.com/photos/ryanbayona/5501712928/
"The feeling of marginalization is the engine. The feeling of being discriminated is the engine behind [the uprising]. But what has made us come out in huge numbers is the revolution in Tunisia, and the success of that revolution followed by the Egyptian revolution [that made us think] we could come out of this dictatorship."
— Nabeel Rajab, president of the Bahrain Centre for Human Rights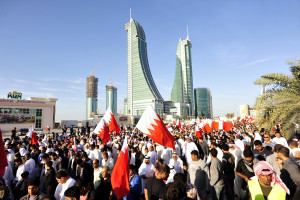 Bahrain: Shouting in the Dark is a documentary released in August 2011 that tells the story of the protests that occurred in Bahrain earlier that year. Spurred on by the Arab Spring occurring in Egypt and throughout the Middle East, many Bahrainis gathered in the Pearl Square to demand for their rights from the repressive monarchy. This documentary is quite empowering to watch, as the common people join together to protest. The documentary also shows some harrowing imagery; these peaceful protests are disrupted by police and other government forces. Activists and other innocent citizens are attacked, imprisoned, and killed. Overwhelming numbers of people are brought into emergency rooms with wounds and bruises, and doctors and other medical personnel have reported being attacked and arrested by government forces for trying to provide medical attention to wounded protesters. The documentary ends on a bleak note, as the uprising was eventually contained but not resolved, and since then Bahrain has remained at a political impasse.
The Bahraini protests in 2011 were inspired by the protests in Egypt and Tunisia, but were also provoked due to the unfulfilled promises of government reform. Most of the thousands of protesters were Shi'a, as well as pro-democracy activists who wanted to achieve greater political freedom and equality for their population. On February 14, anti-government protesters participated in what was called a 'Day of Rage' around Bahraini's capital Manama, demanding the release of people who were detained in earlier protests. After violent clashes with the authorities, several people were injured and one reported dead. Violent occurrences like this became widespread, with government crackdowns occurring at gatherings and protests regardless of their peaceful or violent nature. February 14 was the first of the national uprising, and continued on until March 18. For the next three years Bahrain saw occasional protests in the streets, but due to great repression and continued abuses of authority, the people still continue to struggle to see any promising reform in Bahrain's government.
The Bahraini protests did little to create a lasting disturbance to the overall system. Much of this is due to its resilient monarchy, led by the reigning king Hamad bin Isa Al Khalifa. In an interview from 2011, he remarked regarding the protests:
"You do not keep them outside your tent, you bring them inside the tent. This is the beauty of a monarchical system of government. We always find a way to get over our differences."
Looking at the aftermath of the uprising, one would find his words contradictory to reality. Instead of co-operation, as the king claims his monarchy brings, there has only been further violations of human rights and widespread repression. Five years later, authorities continue to abuse their power through means that include arresting, torturing, and intimidating all those who speak out against the government. Public gatherings are hardly permitted unless it is a funeral; applications for a public demonstration are often denied.
A quote from an article published in Middle East Eye contrasts that of the king:
"[A]ctivists have criticised claims of reform in Bahrain, pointing to the failure to implement the recommendations of the Bahrain Independent Commission of Inquiry (BICI) set up by the government in the wake of the initial 2011 protests to investigate claims of abuse by security forces and freedom of speech violations."
Amnesty International has compiled a short list of people who have suffered at the hands of the authorities. One of these includes Nazeeha Saeed, a journalist who was tortured because she denied being part of a group that wanted to overthrow the monarchy. Her investigation case was closed due to a "lack of evidence". Saeed is one of many cases in which innocent people have been tortured and/or killed by the authorities, and the perpetrators have still not been punished for their actions, and likely never will.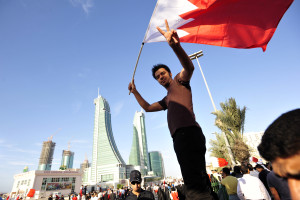 It's important to note that there are many factors that caused the downfall of the 2011 uprising. In the Vice documentary Bahrain: An Inconvenient Uprising, Human Rights Watch UK Director David Mepham claims that state leaders in Western governments such as Barack Obama and David Cameron purposely do not dwell on the issues in Bahrain in the interest of relations with neighbouring dictatorship Saudia Arabia. In order to continue reaping the benefit of Petrol purchases from Saudi Arabia, these Western powers need to maintain good trade relations by supporting Bahrain. According to the documentary the US government has supported the release of Nabeel Rajah, the president of the Bahrain Centre for Human Rights, from prison. But, this is still an underwhelming reaction compared to the one that is needed from the Western governments to apply significant pressure on the Bahraini monarchy to change.
In a podcast with Amnesty International, Nabeel Rajab says that he is happy with the development of using social media to promote human rights awareness. Like most other countries in the Arab Spring, Facebook and Twitter were used in Bahrain to congregate, organize, and strategize their efforts online. Even with his optimism regarding Bahrain's use of social media, Bahrain's uprising was largely ignored or simply unheard of to those living in Western societies. Understanding why this is so is complex and hard to study because of the lack of information available on the topic, but one can gain a rough idea through comparing Bahrain to other revolutions in the Arab Spring. The most famous example of social media in the Arab Spring comes from Egypt, where thousands of tweets were posted each day in order to engage in democratic conversations during the revolutions. Unlike in Egypt, there were numerous reports of people being arrested in Bahrain for posting anti-government tweets. In Rajab's case, he was imprisoned for tweeting about torture practices in a Bahraini prison. Although there may have been government attempts to block Egyptians from accessing social media platforms, its government did not crackdown on citizens by imprisoning anyone who made tweets that spoke out against the monarch or the government.
Given this information, it is clear that Bahrain has not yet effectively created a strong presence in the mainstream of Western media. Since Bahraini freedoms are so severely restricted, it is at this point that international intervention and growing support is needed to pressure the monarchy into permanent reform. The creation of a social media toolbox that can be followed by Bahraini activists and supporters could unify individuals and create a more cohesive movement on and off social media.
There is still an arduous path ahead before Bahraini activists could begin to see the fruit of their efforts, but if the right choices are made by both internal and external actors, they will see that their efforts were not in vain. Many say that Bahrain's uprising was a failed one but this is untrue; it is simply continuing.