#ToneDownForWhat: Come On Hillary, Step It Up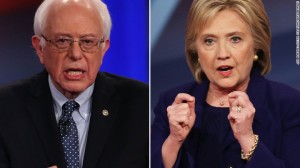 After Bernie Sanders' sweep of the West Coast earlier this week, Hillary Clinton has come under fire. With the April 19th primary in New York looming, Clinton is hesitant to engage in another debate with Sanders in the state of her former Senate seat. She unwisely advised Sanders and his campaign to end their negative campaigning against her and change their "tone", sparking the hash-tag #ToneDownForWhat. This enraged his supporters – Sanders seems to believe that he has a chance to sway voters in New York if given the chance to debate near the electorate.
Regardless of my thoughts on whether or not he is delusional over his chances to clench the nomination at the last minute, I am going to come out for the first time and agree with Sanders and his supporters. It doesn't seem right to me that Clinton should be able to deny Sanders the chance to speak his mind. Even though in my opinion, there have been far too many debates, if a candidate wants to express their point-of-view in a constructive atmosphere, they should be allowed to do so. Many Democrats (Sanders and Clinton supporters alike) criticized Donald Trump when he refused to participate in the second Fox News debate moderated by Megyn Kelly – of course the situation is different, but the sentiment remains the same. Clinton should debate Bernie in New York as it only encourages the democratic process. We do not need intra-Democrat spats like those of the Republicans; we are better than that. I think that Hillary Clinton should do her part to prevent the ideological differences within the Democratic party from splintering us like we see between Donald Trump and Ted Cruz.
I'm not sure if I'll be jumping on the #ToneDownForWhat bandwagon any time soon, nor will I be changing support over this issue but I do believe Clinton should (and will) agree to a New York debate. Her campaign is smart – they know that they could lose support over this issue and do not want to risk it. Once again though, Bernie supporters have resorted to this news story with harsh and frankly offensive tweets, Facebook messages, and memes – this makes me beyond angry. We'll see what happens but my guess is that any day now a debate will be announced, whether Clinton likes it or not.
Do you think that Hillary Clinton is in the right to deny Bernie Sanders a debate in New York? Let's discuss!
With 222 days until the election,
Phoebe Warren