Preaching Unity at McMUN 2017's Closing Ceremonies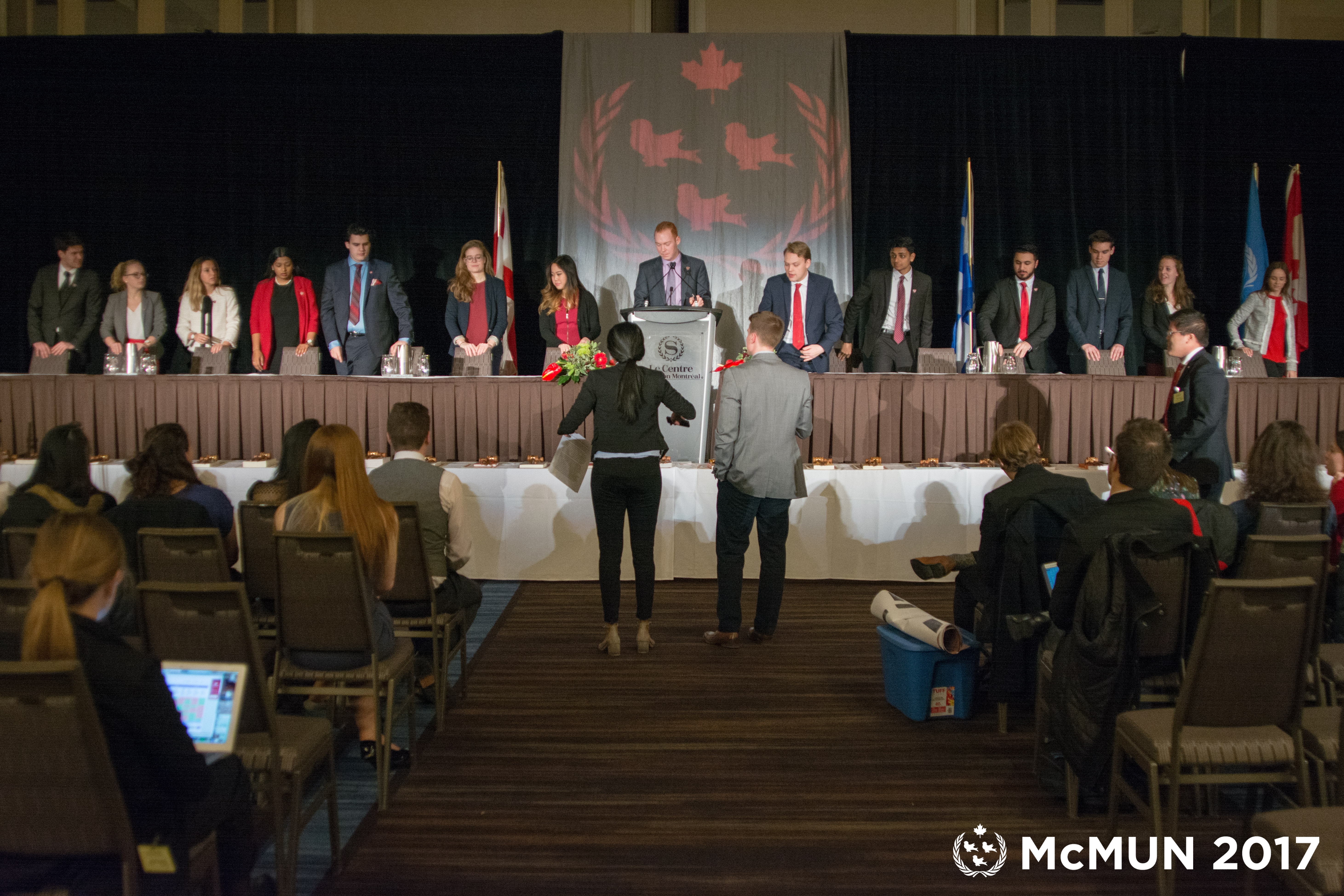 After four days of intense debate, creative solutions, friendly competition, and a few outrageous parties, McMUN 2017 has ended in the same way it began, pure excitement and enthusiasm. Delegates flooded into the ballroom with every ounce of remaining energy, eager to take their seats and begin the closing ceremonies.
David Cavey, President and CEO of IRSAM, commenced the closing ceremonies by thanking everyone for the best and biggest McMUN ever. "Each of you will make a difference in this world," he said. As the delegates go their separate ways, David expressed his hope that, as leaders of today, they will each remember the thought provoking conversations they had, and the difference they will make.
The media team compiled an outstanding video, highlighting the finest moments of the weekend, from the opening ceremonies, to the high-energy committee sessions, to the pub crawl, and of course, McParté. Following the video, delegates all rose in a show of appreciation, as the Secretariat entered the ballroom.
Secretary-General Ginny Tan took a moment to hand out an abundance of well-deserved thank you mentions. From the 1650 delegates to the 600 staffers, Ginny was sure to emphasize her deepest gratitude for all of the people who came together to make McMun 2017 an event to remember.
Laughs filled the ballroom, as Udita Samuel, Undersecretary General of Committees, greeted the delegates with a voice (or lack of) that embodied the tireless hours that the Secretariat has put forth to make this weekend a success. "This weekend," she said, "We met the future leaders of the world. We need to do all that we can, for as many people as we can, for as long as we can." She continued her address with eloquent and moving words, "showing love and compassion, there is nothing we cannot achieve." Before yielding the floor to the committee chairs, Udita reminded delegates to take the ideas and experiences here from McMUN, and turn them into something more.
How inspiring it is, to see delegates from all over the world, show their support and recognition for the achievements of their fellow delegates. Committee chairs announced the award winners from their individual committees, acknowledging Honourable Mentions, Book awards, Outstanding Delegate, and the Best Delegate.
What a pleasure it has been to watch the future leaders of the world in their humble beginnings. McMUN 2017 may have come to an end, but the friends we made, the ideas we shared, and the difference we will make (but hopefully not the pictures from McParté) are sure to follow us wherever we may go.