A Scheer Lack of Leadership: The 2019 Election Dud and Potential Contenders Going Forward
Amid rising unpopularity—who might challenge Scheer next April?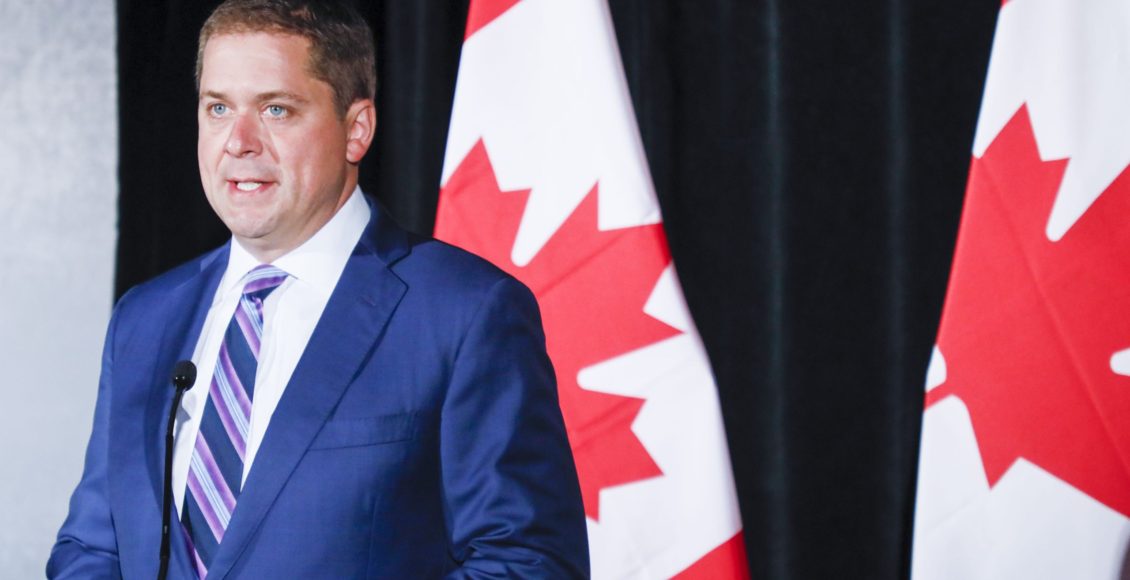 This image is licensed under public domain.
Early this November, Andrew Scheer's position as head of the Conservative Party (CPC) was ensured for the time being after caucus voted against giving Conservative MPs the ability to eject their party leader. However, with a leadership review lying on the not-so-distant horizon as the party's convention in April quickly approaches, it is unclear whether Scheer will have the same stroke of luck in surviving his second judgement. Truthfully, Canadians aren't that crazy about the current leader of the Conservative Party—and they voiced their concerns accordingly back in October. Although the CPC increased their vote count and attained a solid sweep of ridings across the Western provinces in the recent election, the latter was less of an outcome of diligent leadership on Scheer's part and more of a reflection of resentment with Ottawa due to Trudeau's leadership and his delaying of pipeline development. To see where Scheer really faltered, we must turn to crucial battlegrounds like the Greater Toronto Area. Here, the Conservatives performed worse in 47 of 55 ridings compared to their 2015 results despite winning more of the vote nationwide. If we jump back even farther to 2011, the image is made all the more bleak for the CPC, as it was not so long ago that the party handily took a majority of the electoral ridings in Toronto proper, as shown below.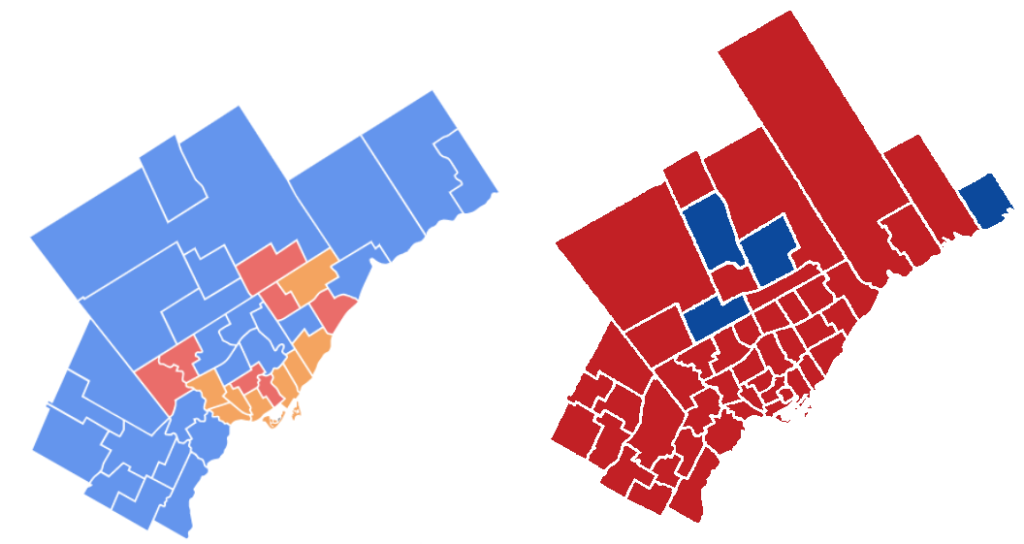 Given the outcome, what's to blame? Peter McKay, three-time cabinet minister under Harper, blamed Scheer for having alienated the centre by leaning right on social issues like gay marriage and abortion, wisecracking that Scheer's views hung around him like a "stinking albatross" during election season. In similar regard, others have blamed the CPC's position on environmental action. Feeble in contrast to the stances of the Liberals, NDPs, and Greens, the Conservatives struck a chord with their usual base but utterly failed to take into account the climate concerns of swing voters in Central and Eastern Canada. Or perhaps still, we might turn to the 2019 Conservative candidate in Riviere-du-Nord, former Olympic swimmer Sylvie Fréchette. When asked her personal thoughts on the mediocre Conservative showing in October, Fréchette dryly responded by saying Canadians were turned off by Scheer's "lack of balls" as a political leader. Whether one or all three of these factors are to blame, it is certain that members of the CPC will seek to assuage Canada's tepid reception of the party going into the future. With this in mind, we can be certain that there will be no shortage of contenders in 2020 seeking to oust Scheer from his position. Come this April, who might we see rise to the challenge?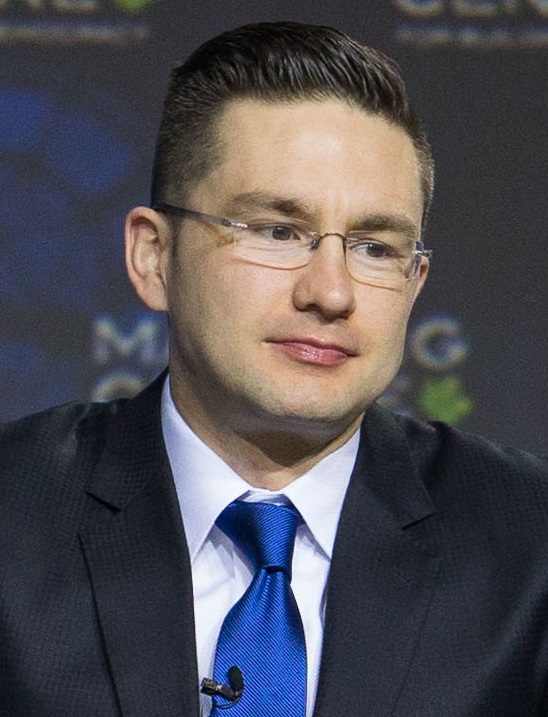 Pierre Poilievre, shadow Minister for Finance, MP for Carleton
Poilievre, in terms of character, can be defined by all that which Scheer is not: bold, assertive, and, surely to Madame Fréchette's appreciation, a hard-hitter through and through. During Trudeau's first term in office, Poilievre made a name for himself because of his tenacity in challenging Justin Trudeau in the Commons at every turn, demanding an explanation from the Prime Minister on everything from his broken pledge to balance the budget to his stance on the SNC-Lavalin affair. Having made national headlines over his characterization as the Conservatives' "top agitator," Trudeau dedicated key moments during campaign season, such as Canada Day itself, to make public appearances in Poilievre's riding hoping to dislodge the ever-present thorn in his side. With Poilievre having won his riding by a safe margin of 8% over his Liberal competitor, it appears as if the blue firebrand is here to stay.  Given the resurgence of the Bloc Quebecois (who won 32 seats in October, up from 10 in 2015), Poilievre may be a popular choice for the leadership come April. As a Franco-Albertan, Poilievre could potentially regain lost inroads with French-speakers in Quebec. However, this is not without strings attached: Poilievre remains steadfast in his opposition to a carbon tax, a policy which might prove unappealing amid the rising centrality of the environment as a concern for Canadians.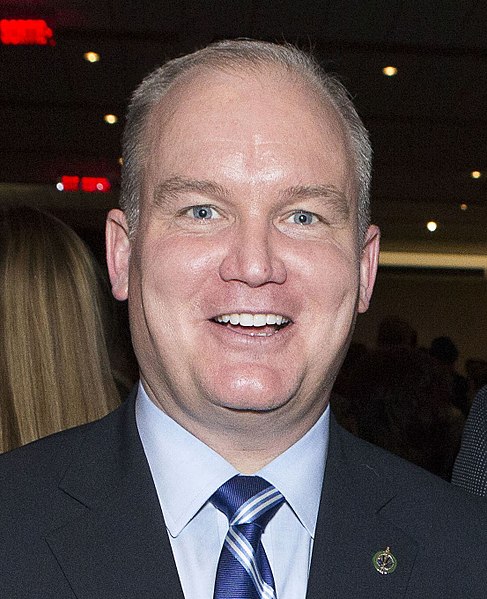 Erin O'Toole, shadow Minister of Foreign Affairs, MP for Durham
During the last leadership election for the Conservatives back in 2017, O'Toole won third-place after Scheer and Bernier with a modest 21% in the penultimate round of voting. Although not as well-known as popular politicians like Poilievre, O'Toole, as a veteran himself, served by all accounts as a dutiful Minister of Veterans Affairs under Harper. As such, he led a three-point "veteran-centric" program to bridge the Harper government's stormy relationship with Canadian ex-servicemen. Widely seen as having restored confidence to the office, O'Toole's tenure as veterans affairs minister was warmly welcomed after the controversy surrounding his predecessor. The post's former keeper, Julian Fantino, was accused of gross impropriety over his mismanagement of mental-health services for Canadian veterans. In contrast to figures like Scheer, O'Toole has remained closer to the centre on social issues, supporting economic development and job creation as part of his agenda. Back in 2015, O'Toole's platform for leadership sought to empower indigenous communities in addition to supporting Canadian youth to succeed in a rapidly changing economy—although his environmental policy largely remains in line with the official party standard. Nevertheless, his riding in Durham has been solidly blue since 2004. Come April, O'Toole's centre-right stance may be seen by his fellow party members as a desirable characteristic for leadership, as it may prove as popular with Canadians nationwide as it has been to his ever-faithful electorate in the Toronto outskirts.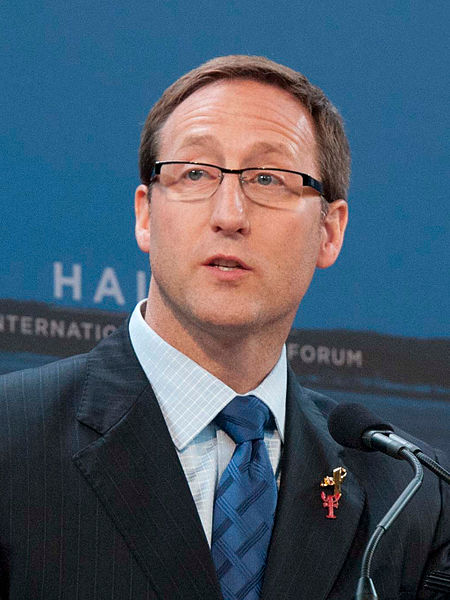 Peter MacKay, three-time Cabinet minister (Justice, National Defense, Foreign Affairs) under Harper; Leader of the Progressive Conservative Party (2003)

Amidst all potential challengers, MacKay was initially set apart by many as the most likely candidate to launch his bid for the leadership in April 2020. As the final leader of the Progressive Conservative party (PC) before its merger with the Canadian Alliance in 2003, MacKay, although a veteran politician, hasn't been afraid to get his hands dirty and speak his mind. In addition to having criticized Scheer over not having clarified his personal stance on social issues, MacKay also attacked his weak offence as the head of the Opposition. With Trudeau mired in scandal over the SNC-Lavalin affair and the blackface controversy and Canadian voters divided on the Liberals' plan for the pipeline, Scheer, according to MacKay, blew a lead that was handed to him on a silver platter—all he had to do was reach out and take it. Although quick to take jabs at Scheer, it is still unclear if MacKay is all talk, or if he actually plans on running. CBC News cites multiple (unnamed) sources claiming that MacKay has launched a preemptive strike for the chair of the party, having already congregated a campaign team in preparation for a leadership bid. Despite this, MacKay has since pledged that he does not plan to run in 2020 and will fully support Scheer in April. Given this contradictory information, it's impossible to say which is correct at the moment. However, MacKay has famously gone back on his word before. Back in 2003, he stated that he had no intention of merging the PCs with Harper's Canadian Alliance—of course, the latter went on to serve as Prime Minister for nine years under a united Conservative Party.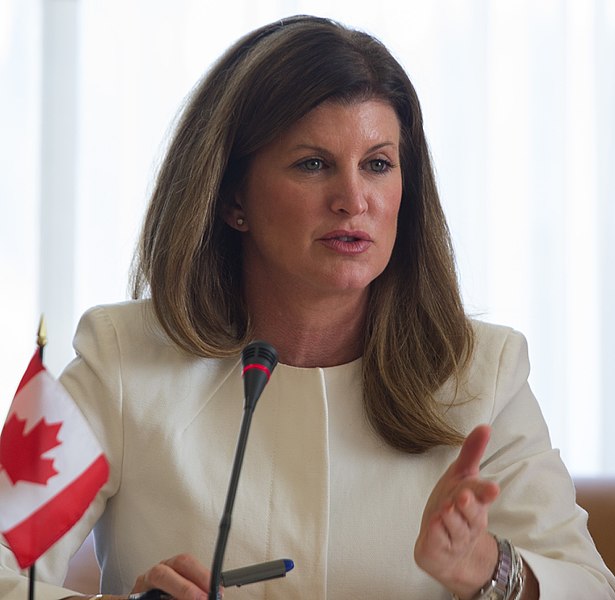 Rona Ambrose, interim Leader of the Opposition/Conservative Party (2015-17)
Of all potential contenders in April, Rona Ambrose is—for the moment—the only woman among them. If she should step up to bat at the leadership conference, Ambrose has the potential to make an exceptionally strong contender, with a massive potential appeal to female voters. Firstly, Ambrose served as Minister for the Status of Women under Harper. Once installed, Ambrose quickly received praise across both sides of the aisle for
addressing
the problem of violence and honour crimes against women in Canada, in addition to promoting the rights of
Aboriginal women
. Her cabinet role obtained international importance when Ambrose served as Canada's official representative to the UN, where she promoted the establishment of the "
International Day of the Girl
" in recognition of gender inequality, and to foster new opportunities for girls worldwide. Subsequently, Ambrose served as interim Conservative leader from Harper's resignation until the leadership election of 2017. Her non-partisan commitment to Canadians was further proven when she was
appointed
by Trudeau thereafter to aid in renegotiating NAFTA on a unified "all-Canadian" government commission. As a well-respected political leader willing to put country above party, Ambrose could potentially tap into political support networks outside the usual Tory base, and appeal to the centrist swing voter. If she should apply for the Tory leadership (and win), Ambrose could become the second woman in Canada to represent a Conservative party at a federal election after Kim Campbell in 1993. At the moment, whether Rona Ambrose has any intention to step up in 2020 is still unclear.
Having affirmed that she has
no interest
in running as a member of the provincial United Conservatives in her home province of Alberta, it may be that the one-time Conservative leader has been saving her larger, federal-scale ambitions for the opportune moment.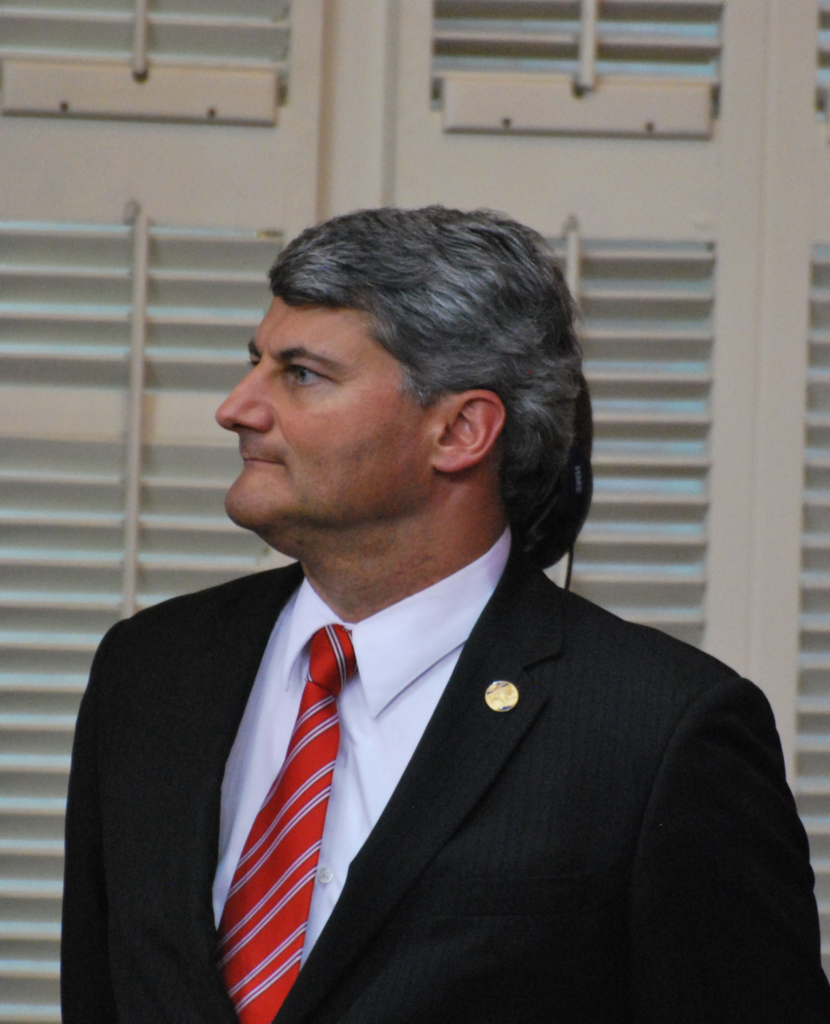 Gérard Deltell, shadow President of the Treasury Board, MP for Louis-Saint-Laurent
Although
pushed
to run in 2017, this little-known federal newcomer brushed aside the idea at the time, finding it best to gain further experience and bide his time until another day. With April soon approaching, this may be Mr. Deltell's moment to strike gold. Charismatic and highly respected in Quebec as a journalist, and subsequently as a provincial politician, the ex-CAQ provincial MNA went federal in 2015 and won his riding in Louis-Saint-Laurent with
double
the votes of his Bloc runner-up. Although the Liberals swept the country and won a majority government that year, Deltell successfully battered down the hatches in Quebec City, canvassing alongside his fellow Conservatives in the region and aiding them to
win back seats
the CPC had lost in 2011. As a self-proclaimed "
right-wing [Quebecois] federalist
," Deltell, much like Poilievre, could potentially galvanize Conservative support in Quebec at the expense of the renascent Bloc Quebecois. Despite his tried and proven ability in mobilizing the party to great success, Deltell is not without his potential liabilities. As one of the most
vocal opponents
of the legalization of marijuana, his unyielding stance on the issue may prove problematic in extending party support to new, younger voters.
…
Whoever should rise up to seek command of the party, one fact remains paramount: Scheer should surrender leadership gracefully by April
a
nd allow the best contender to take their place. Earlier this month, Elizabeth May
resigned
as head of the Green Party. In her press conference, May remained confident that with her exit, the potential of new "exciting leadership" would serve the party better as a whole.
Currently
, 63% of Canadians and 40% of Conservatives support Scheer's resignation. With support this dismal even from members of his own party, there is no reason why Andrew Scheer should not follow in her stead. By opening up the party to new blood in the same vein May has, it is the Canadian people who benefit overall, for they will be able to select a new leader that better represents their needs and interests
—and in the end, isn't the importance of change a fundamental aspect of any democracy?
Featured Image: Andrew Scheer is licensed under CC0 1.0.
Edited by Clariza-Isabel Castro
Correction: Dec. 7, 2019 – An earlier version of this article misidentified Pierre Poilievre as 'Franco-Ontarian'. He is Franco-Albertan.