Author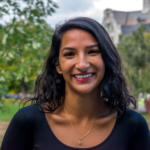 Dil Bola
Dil Bola is a U3 student currently pursuing a degree in Political Science and World Islamic & Middle Eastern Studies. She specializes in the politics of Islamic civilizations, states and societies primarily in the Middle East region.
FDR had radio, JFK had television, but Trump? Trump has Twitter.
Read More...
"I disapprove of what you say, but I will defend to the death your right to say it." - Hall Evelyn Hall illustrated Voltaire's beliefs in the principle of freedom of speech with the above phrase. The sentiment remains  common in today's…
Read More...